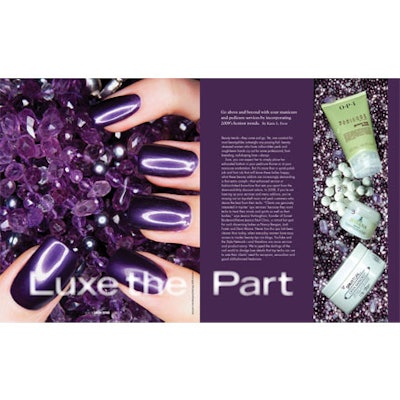 Go above and beyond with your manicure and pedicure services by incorporating 2008's hottest trends.
Beauty trends—they come and go. Yet, one constant for most beautyphiles outweighs any passing fad: beauty-obsessed women who have callus-ridden peds and rough-hewn hands cry out for some professional, foot-kneading, nail-shaping love—always.
Sure, you can expect her to simply place her exhausted bottom in your pedicure throne or at your manicure workstation. But it's more than a quick polish job and foot rub that will leave these ladies happy; what these beauty addicts are increasingly demanding is that extra oomph—that enhanced service or fashion-linked know-how that sets you apart from the down-and-dirty discount salons. In 2008, if you're not luxe-ing up your services and menu add-ons, you're missing out on top-shelf mani and pedi customers who desire the best from their techs. "Clients are genuinely interested in top-tier 'spa services' because they want techs to treat their minds and spirits as well as their bodies," says Jessica Vartoughian, founder of Sunset Boulevard-fixture Jessica Nail Clinic, a virtual hot spot for such discerning ladies as Nancy Reagan, Jodie Foster and Demi Moore. Never has this spa link been clearer than today, when everyday women have easy access to insider beauty tips via blogs, YouTube and the Style Network—and therefore are more service-and product-savvy. We ta pped the darlings of the nail world to divulge luxe details that top techs can use to sate their clients' need for escapism, sensualism and good old-fashioned hedonism.
—Karie L. Frost