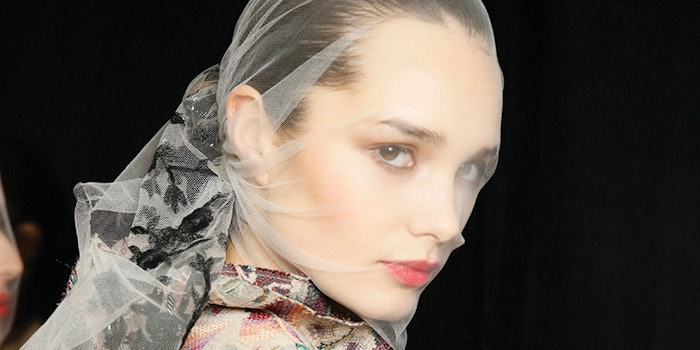 With large in-person weddings still in limbo, the call for veils seems an impractical one. Yet backstage stylists claimed otherwise, swaddling hair in veils both sweet and mysterious for the fall runways—and making a case that netting be worn beyond the bridal aisle.
At Brock Collection, Oribe global ambassador James Pecis swathed models' faces in dainty tulle, gathering the fabric like a ponytail around neatly twisted chignons. With a few artfully hidden hairpins, Elie Saab hair lead Stephane Lancien caused polka-dotted netting to float around the face and ponytail in the most beguiling of optical illusions. Common among this new wave of veils: a lack of length. Abbreviated mini veils proved themselves more versatile than their miles-long counterparts, as witnessed when dancing atop sleek buns (at Giambattista Valli) and fluttering above a half-up cascade of tendrils (at Rodarte).
No matter how tight the weave, these modern-day veils still manage to reveal these styles' beauty—just another reason to say "I do" to the trend.