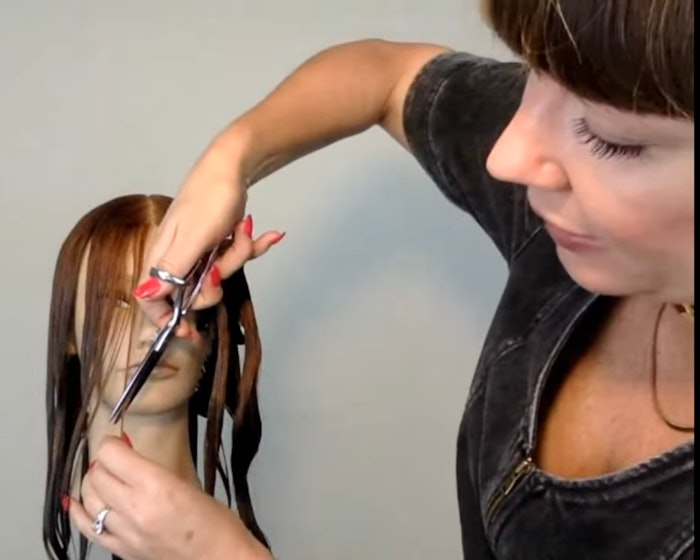 Courtesy of Mandy McCullough x Sam Villa

Long layers will always be trending!

According to Mandy McCullough, Sam Villa ambassador and owner of Fix Salon (Seattle), "I want something new and on trend, but I don't want to lose any length" is the mantra of many long-haired clients. 
Watch her demonstrate how to cut a perfect "U"- or "V"-draped perimeter with face-framing layers, fullness and movement:
"Add the wrong layers and the result can leave hair looking thin and sparse on the ends. Knowing how to strategically add texture and remove bulk can create hair that holds a blowout or iron wave for days!" enthuses McCullough, who suggests using a Sam Villa Blow Dry Hot Brush to refine the look.
 Tips for Cutting Layers
Sectioning: Instead of starting with four quadrants to cut the perimeter, cut each quadrant in half and use eight sections. Smaller sections allow more control in changing the perimeter length from the front to back. 
Guides: Before cutting the perimeter, cut guides to follow. Cut one in the back for the finished length, near the jawline for the front length, and one that hits somewhere in the middle front of the shoulders. Connect the guides with shears or a razor.
Dry Hair: Add layers once hair is dry to better read the hair and how it will fall. Try the Sam Villa Signature Series Dry Cutting Shear 7"

—

the longer blades are convenient for cutting longer lengths.
Graduation: Utilize swelling graduation by elevating layer sections up over the head shape until they wrap over the top of the head and then cut. The wrapping creates maximum elevation, which maintains length in the perimeter and creates full rounded layers.
Movement: Remove weight to add movement on long hair by point-cutting the ends to blend and soften the shape. Then, use a texture or slide-cutting shear

—

elevate the section as if adding layers, but remove weight from the mid-shaft.