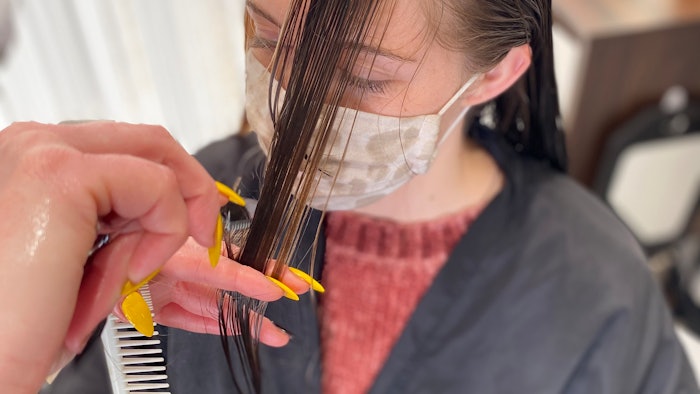 Blades
Start each cut with a fresh blade—it will slice smoother and not pull hair for an optimal razor cut experience. One blade might be enough for finer hair types, but two or more might be needed for others, depending on density and texture.
Straight: Use when beginning an entire cut from scratch

—

it's a go-to blade to get things started and also to etch out a hairline with a natural pattern.
Blending: Great for diffusing or lightening a ledge or weight line and can be used for a softer result in directional cutting. Cutting flat with the surface helps to lighten hard-to-blend lengths on lobs, bobs and pixies.
Texture: Use to create texture quickly. Success with this (and any blade) is awareness, so use light pressure and finesse.
Handle
Hold a razor like a pencil and stabilize it. Balance the razor hand on the hand that's holding the hair to help gain more control and keep the hand in a natural position to reduce strain.
Wet vs. Dry Razoring
Dry hair, especially curly, will yield a more lived-in look with rougher diffused edges. Wet hair will cut cleaner, and the added glide of a cutting lotion will make it even smoother.
Techniques
Directive Sculpting: When refining, use a razor to generate direction

—

short hair pushes toward longer hair, so utilize short pieces to open up focal areas such as fringe or framing. When cutting shorter lengths or layering, take a skimming stroke, and for longer lengths, switch back to a finger tang for more leverage.
"If your client wears glasses, make sure to do detail work while glasses are on, especially around the ear and fringe, as this is truly how their hair will lay every day," says Devine.
Brush Stroke: When detailing the neck or hairline in front of the ear, hold the razor parallel to the hairline with the guarded side pointing toward the cheek and lightly etch out hair. The less pressure put on the hair, the less hair is cut, so it is a nice way to create soft structure around a hairline.
"Before you begin working with a razor, warm up and develop muscle memory with the simple movement of rocking the razor back and forth in your hand, as if you were shading something in with a pencil," advises Molina.
Check out this razor bob cut, below, from Salon Pro Rx, and register for more educational videos.