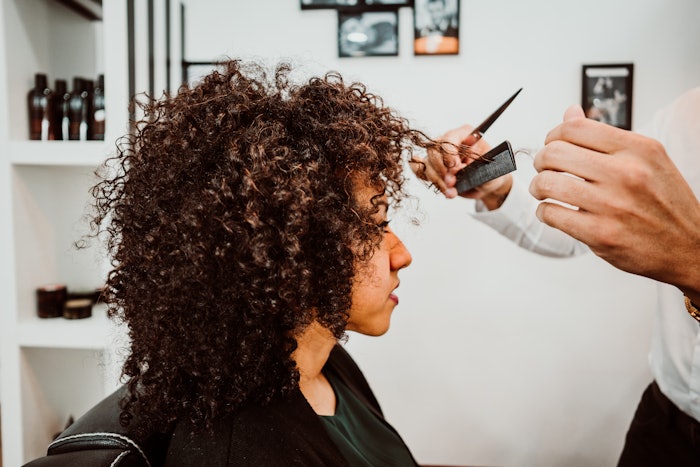 A part of being a hairstylist is continuing education. 
This can be brushing up and growing your skills in an area you are familiar with or learning something completely new.
Textured hair has long been underrepresented in the beauty industry, leaving hairstylists without proper education to care for textured hair and consumers without access to stylists who have the knowledge to help them. Maybe this is a space you want to enter and grow your skillset in. 
If so, Jada Jenkins (@jadajenkinsco), salon owner and curly haircut expert, is sharing her advice: "Don't be afraid!"
Below, she shares three techniques for cutting curly hair. 
"People with textured hair are always afraid of someone cutting too much off, so remember not to ever stretch the curl pattern straight when cutting," explains Jenkins.
Linear Cutting: Use a comb as a guide — Simply insert at the appropriate angle and length and cut along the comb for a sharp linear cut. Do not pull the comb through. NEVER stretch curls when cutting — Cut them where they live.
Freehand Cutting: Grab a curl gently and open and close shears from the top down and at a slight angle to create diffusion on the ends.
Volume Cutting: Take a curl in fingers (do not stretch), and cut from the bottom up to build volume and fullness.
Other tips: 
Detailing: Apply leave-in conditioning spray to hair to better show any wispy hairs that need to be trimmed for a clean line.
Sectioning: Use fingers to create sections, not a comb, so the curl pattern is not disturbed. Hold sections with dry sectioning clips.
"As long as you have a plan and your zoning and sectioning down, you won't have to go back and retouch too much," Jenkins adds.