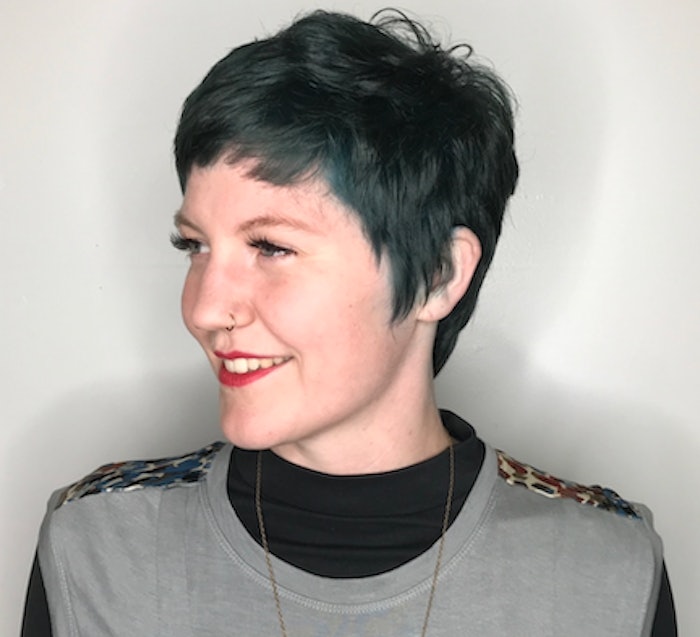 courtesy of Sam Villa Company
Cutting a pixie can be intimidating for both the stylist and guest, but Mandy McCullough, Sam Villa ambassador, Redken artist and salon owner, has three tips for creating perfection every time.
"If short haircuts make you nervous, this pixie is one that will not let you down because it can easily be customized to every client, making her feel like you are a short-hair genius!" enthuses McCullough, who will be demonstrating an entire pixie cut and how to personalize it for clients on Monday, April 19th at 8:00 AM PST/11:00 AM ET on Facebook: @SamVillaPros.
Here, McCullough reveals her three biggest pixie pointers: 
1 Shears Choosing the right tool always affects the results. Below the perimeter the cut follows the head shape, so using a shorter shear helps control sections and creates a contoured silhouette. Above the perimeter is all about creating texture and removing bulk, so opt for a shear like the Sam Villa Signature Series Dry Cutting Shear 7".
2 Sections Diagonal sections create a softer silhouette to frame the face and works with almost all hair types.
3 Products Utilize hair paste along with dry shampoo while styling to add moldable texture along with a lived-in look. 
To view more pixie cut education, check out Salon Pro Rx.