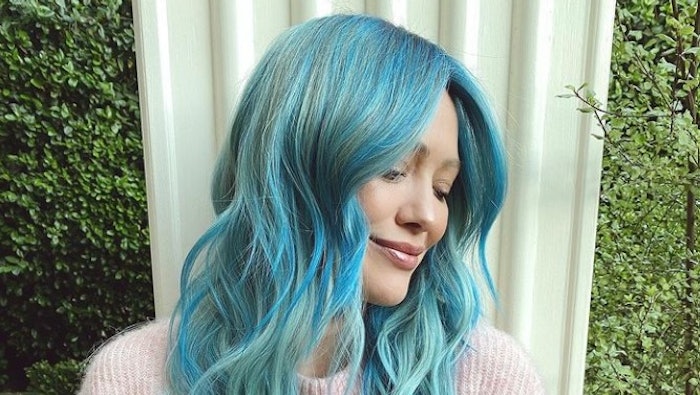 "Hilary is no stranger to a fun hair color. She colored her own hair teal during lockdown! This mix of blues just hits differently on her though. In order to get her hair this vibrant cotton-candy blue, I had to first pre-lighten her hair with Joico's Blonde Life," says Lee, Nine Zero One salon co-owner and In Common Beauty co-founder. "Thank God I had my bestie Riawna to help me because we put in what felt like hundreds of foils. After processing, we did a quick pre-tone to kick out any unwanted yellow before applying the blue. This was an important step, as the blue mixed with yellow could've gone green. We then applied the magic: Joico's Color Intensity True Blue and Mermaid Blue from roots to mid-shafts. Then for Hilary's ends, Mermaid Blue with a splash of Peacock Green. Afterward, we did a deep-conditioning treatment on Hilary's hair with In Common's Crystal Cashmere. We're obsessed with this look! Hilary is 'goals' in many ways, but to be pregnant and rock this color with so much confidence is everything."
Formula 1: A full head highlight with Joico Blonde Life Powder Lightener and 20-volume LumiShine Developer. Capri started in the back, Lee started in the front, and they met in the middle.
Formula 2: (Pre-Tone) Joico Blonde Life Quick Tone Liqui-Crème Toner Silver + Clear with 5-volume LumiShine Developer to kick out any unwanted yellow before going blue.
Formula 3: (Light Blue) Joico Color Intensity 1 Part True Blue + 1 Part Mermaid Blue + 2 Parts Clear from roots to mid-shafts.
Formula 4: (Mint) Joico Color Intensity 4 Parts Clear + 1 Part Mermaid Blue throughout ends.