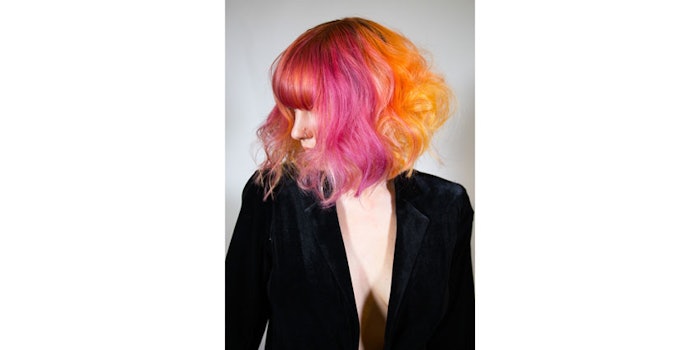 ProRituals has launched a reformulated direct dye series called ProPigment 2.0.
ProRituals ProPigment 2.0 is a bright, bold, direct dye series. This series creates long-lasting, vibrant color and imparts a rich shine, leaving locks feeling soft and silky.
Use Clear to lighten and brighten any ProPigment 2.0 shade, and White to create pastels.
ProRituals ProPigment 2.0 Benefits:
No developer needed
Long-lasting direct dye
No ammonia
No peroxide
No PPD
No resorcinol
Fade-resistant
Acidic pH
Paraben-free
Cruelty-free
Vegan
To celebrate the launch, ProRituals artistic director William Whatley created three striking looks—check them out, as well as the steps to achieve them.
"The colors created on our stunning models were derived from six primary colors, a clear and white used directly on the head or mixed and customized to achieve the target color," says Whatley.
How-Tos:
Look No.1: Orange Sherbet Delight
Make sure hair is pre-lightened to a level 10 to achieve best results.
Step 1: Mix together 30 grams Yellow, 10 grams Orange and 20 grams Clear. Then, apply all over the head.
* Due to the unique technology behind ProPigments 2.0 there is very minimal bleeding or runoff when using multiple shades.
Step 2: Add the second color right over the top of the first formula in the front half of the head from the back of the ear forward, creating a dimensional beautiful sherbet swirl effect. Formula: 5 grams Orange, 10 grams White and 15 grams Clear.
Look No. 2: Intense Purple
Make sure hair is pre-lightened to a level 10 to achieve best results.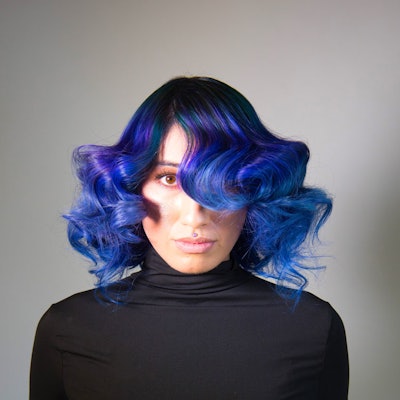 Step 1: Apply 60 grams Purple straight from the tube all over the head, and let sit in open air for 30 minutes. Then, rinse with cool water until clear.
This process creates a very dramatic and vibrant purple. If the colorist is looking for a less vibrant or more pastel effect, mix the Purple with Clear or White depending on the desired effect.
Look No. 3: Totally Teal
Step 1: On one side of the head, create a rich blue using 60 grams Blue.
Step 2: On the other side of the head, create monochromatic contrast and apply a mixture of 30 grams Green, 10 grams Blue, 20 grams Clear and 30 grams White for a pastel teal.