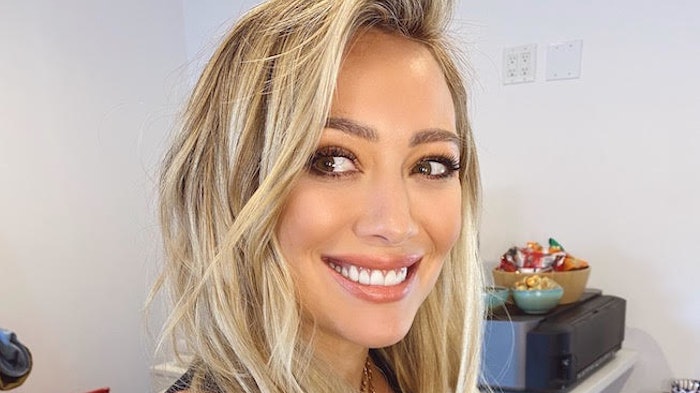 Hilary Duff has a new hair transformation by Nikki Lee, In Common Beauty and Nine Zero One co-owner.
"There's nothing like a fresh bright blonde, and no one wears it better than Hilary. We took Hilary lighter using Joico's Blonde Life Lightener, as she's going to start filming 'Younger' again soon. The key to keeping her hair healthy while highlighting was not pulling any lightener through the ends, but instead adding In Common's Cashmere Fusion Cream to the ends while her highlights processed in the foils. Once she's on set, there will be a lot of heat styling, so knowing that her blonde will be protected by the Cashmere Fusion treatment is a sigh of relief. This is a treatment that can be done in the salon or at home to help make hair super healthy." —Nikki Lee
Step by Step:
Step 1: Use Joico's Blonde Life Powder Lightener starting in the back with 20-vol. LumiShine Developer, working up to the top with 30-vol.
Step 2: Use In Common's Cashmere Fusion through the ends if they are already light, to keep the hair healthy.
Step 3: After processing, tap her root with LumiShine Demi-Permanent DD Crème 6N + 6NA with 5-vol. LumiShine Developer.
Step 4: Tone the root and midshaft with LumiShine Demi-Permanent Liquid 9NV + 10V with 5-vol. LumiShine Developer.
Step 5: Put Joico Blonde Life Violet Shampoo on the ends.
Step 6: Process for 10 mins.