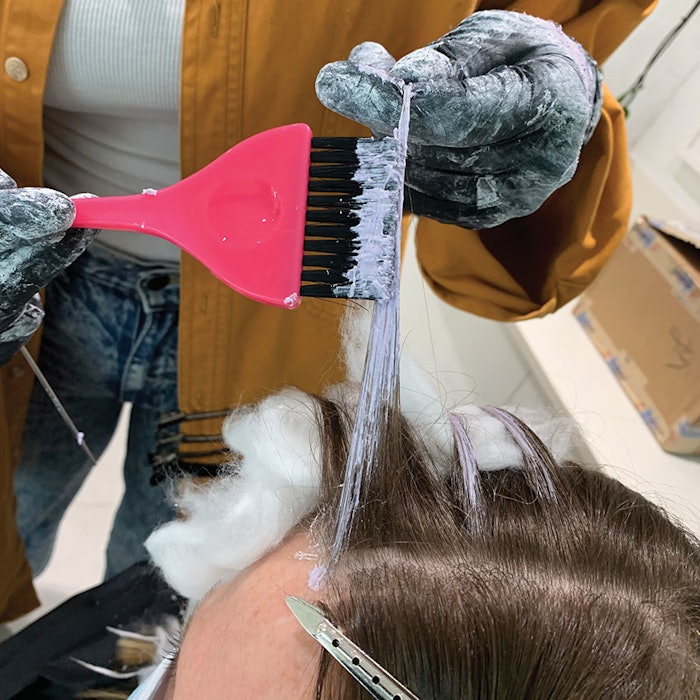 Haircolor is all about chemistry and placement. When artists master both, a universe of infinite pigmented creations lies before them—especially with balayage. Preferred for its free-form paint application where a keen eye and gut feelings can play guide, balayage done right kisses hair with nuanced color that appears nature-born. But even in a service that appears to be driven by experimentation and intuition, trends emerge, techniques develop and mistakes abound. Here, pros dive into the numbers of this in-demand color service.
3 Basics for Flawless Results … Guaranteed
Think you've got balayage mastered? Oftentimes the most obvious basics are forgotten, overlooked or illusory to the artist. Here's a hair-paint refresher.
Consistency matters. Mix your lightener to the right consistency. Too thin, and it won't stick to hair; too thick, and it can crumble off; too lumpy, and you can wind up with spotty, uneven results. "I like my consistency like cream cheese and I ensure that I mix out all of the lumps," says Kaeleigh Burke (@hairbykael), Master of Balayage ambassador and colorist at Turning Heads Hair Studio in Hackettstown, New Jersey.
Remember negative space. "What you don't paint is just as important as what you do," says balayage expert Sara Botsford (@sarabotsfordhair) of Fort Francis, Ontario, Canada. Leave negative space to create desirable depth and dimension that makes color pop.
Zero in on saturation. Lived-in, natural-seeming color should look the part—which means you need to get your product saturation under control. "I make sure to always load my product into Zone 2 and really build it up," says Burke. Once you think you should move on to Zone 1 and 3, she says to add a touch more to Zone 2. "I say this because you're going to want to feather up into Zone 1 and, once you do that, you really don't want to add more product and make the balayage appear uneven." Her advice: Really saturate that top, avoid saturating the bottom and use a slightly lighter saturation in Zone 1 to ensure your blend.
3 Biggest Balayage Mistakes … and Their Fixes
Pigment gone awry? If you're scratching your head because of patchy color and one-dimensional results, you're not alone: Stylists are bound to trip up on the following mishaps—each is easy to correct with practice.
The Mistake: too short of strokes. "I see stylists using too short of strokes when applying their lightener," says Botsford. "This can lead to uneven and splotchy results and also takes much longer to apply." Her solution: Open up your body position. This allows you to use a longer, full stroke that she says not only covers more surface area quickly, but also allows the product to glide on more evenly.
The Mistake: a heavy-handed blend. Nuanced color requires a lighter touch with product—especially toward the top of your stroke where your blend begins. "Start with a minimal amount of product on your brush and layer the product in the areas you want more lift," says Rachel Rush (@rachel.rush), owner of R + R Salon in Frisco, Texas. If you find you've already overdone the blend, Ashlie Marmo (@ashytones) of Posh Color Studio in Easton, Pennsylvania, suggests, "Have another dry color brush on hand to blend out any heavy lines."
The Mistake: outright over-painting. "As stylists, we think the lighter and brighter, the better. While that is true in some capacity, if you take out all of your depth you're left with what looks like a warm allover color and not a dimensional, lived-in look," stresses Burke. To lighten your touch, take larger sections and be sure to only saturate the top of the section—"you don't want the color melting through the interior or the other side," Burkes warns. Feel uncomfortable holding a large amount of hair in your hand? "Drop out a one- to two-inch section to be utilized as a low-light underneath what you're painting so you can ensure that you don't over-paint," she suggests.
1 Major Trend: The Money Piece
All of our pros agree: There's one main trend, and if you add it into your balayage repertoire, your clients will pledge their allegiance to your talents. That trend: the money piece. These three reasons affirm why it's here to stay.
It makes you more money. "What's so great about this trend is it's a quick service that stylists can perform between their clients' full balayage sessions," says Marmo. She suggests a touch-up every 8 to 10 weeks to keep the face-framer bold and fresh.
It's versatile. Do think bold with these moneymakers by expanding the piece into a larger section, which allows more versatility in styling, advises Burke. "I think what girls are loving about this larger money piece is that, when their hair is down, they have this gorgeous, effortless-looking blend, but when it's up in a ponytail, the tail appears to be very bright and blonde," she says.
It's WFH approved. Not to mention, the money piece is perfect for Zoom. "With the increase in working from home, having a nice bold face frame is great considering it's really all people are seeing on screen!" enthuses Botsford.
5 Tried-and-True Balayage Techniques
When your appointment book floods with balayage appointments, you're presented with the chance to work in techniques that can make you work faster, help you go brighter and crown you the balayage expert in your town.
Switch up partings. "I like using horizontal and diagonal forward partings versus diagonal back," says Rush. "I find this to be much easier to move quickly and direct the hair either straight down or away from the face."
Work in foilyage and teasylights. Purists might believe that balayage should only be air-dried hand-painting, but foilyage and teasylights certainly have their place in this service. "Used together, you get that balayaged, lived-in haircolor look with the brightness all around the hairline. Plus, you're getting max lift," says Burke. "With foilyage or teasylights, you can really get your clients to be a lived-in blonde in one sitting, as opposed to multiple sessions."
For the full article, check out Beauty Launchpad's June digital magazine.