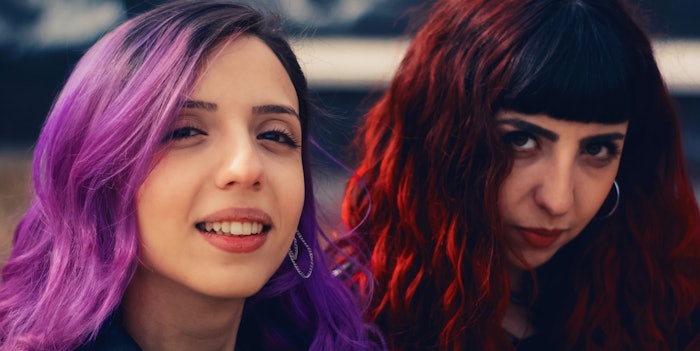 The wild ride that is 2020 will soon be coming to an end; however, even though the calendar may be changing, the last 12 months will certainly have a lasting impact on the professional hair industry. What 2021 has in store for us is anyone's guess.
Wella colorcharm has released its first-ever "What's Trending in Hair Color" report, which reveals the latest hair color behaviors and the most-desired trends among American women. The report comprises survey data from 1,000 U.S. women aged 18 and up. In addition, four colorists from Wella colocharm's Top Artist team were interviewed about the top salon trends and how they can be achieved at home.
According to Wella colorcharm top artist Julie Cornejo (@julie_forhair), "The trends right now reflect all that has been happening in our world and our lives. People are looking to lift their spirits, make their lives easier and desire less maintenance."
Hair Coloring Behaviors
53% of woman have dyed their hair at home since March 2020
63% of at-home hair color used since March 2020 has been permanent hair color
40% of Gen Z consumers have opted for bold, temporary color compared to 29% of millennials, 14% of Gen X and 8% of baby boomers
Reasons for Dyeing Hair at Home
26% of survey respondents said they dyed their hair at home as an act of self-care
23% dyed their hair at home to save money
14% opted for at-home color as a way of staying safe by skipping the salon
The survey found that half of American women agree that video chats and masks have increased the importance of hair looking its best and expressing their personal style
What's Trending
33% are interested in vivid hair colors, including peach and blue
21% are interested in face framing highlights, i.e., the money piece
21% are interested in going back to their natural hair color
18% are interested in chunk highlights
11% are interested in gray hair
Vivid Hair Colors
According to the Wella colorcharm Top Artist team, shades such as peach, violet and amethyst are all trending, easy to create colors. The report states, "pink, peach and coral hues are easy to recreate at home and are easy to customize the shade intensity. It's best for hair that's a level 6 (medium/light blonde) or higher."
Products that can help achieve this look include Wella colorcharm PAINTS and Wells colorcharm Powder Lightner.
The Money Piece
Looking to add some brightness? The face-framing money piece can be done with lightener or primary colors for a pop of pigment, the report says.
Products for achieving a trendy money piece include Wella colorcharm Painting Lightening System.
Chunky Highlights
Chunky highlights are back and will certainly serve up a hearty dose of 90's nostalgia. Per the report, the highlights are usually 1-2 inches wide and are meant to create stark contrast against the natural hair color. The look can be achieved with bold primary colors or natural hair hues.
Suggested products include Wella colorcharm Demi-Permanent Hair Color and Wella colorcharm Painting Lightening System.
Going Au Naturale
Hair consumers found safety in simplicity amid a turbulent and unpredictable 2020. The report suggests that women are interested in embracing their natural hair color to eliminate complex salon services or regular trips to the salon.
Products to help achieve the natural look include Wella colorcharm Demi-Permanent Hair Color.