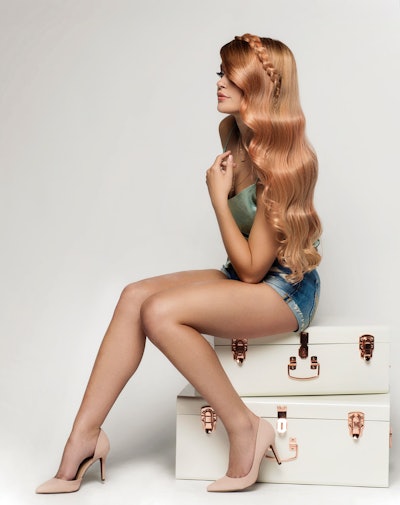 Summer hair doesn't always have to go lighter—in fact, this year it's all about going brighter. CHI Artists Anna Cantu and Cynthia Diersen tapped into the hair color trend of bright pastels with a step-by-step collection using CHI Ionic Shine Shades, a liquid color system that can be used for Permanent, Demi and Semi color formulations. They offer up this pro tip: Keep color popping with CHI Color Illuminate Conditioners to serve not only as a moisture and shine treatment, but also a great color-enhancing remedy to prevent fading in between salon services. Available in seven shades, the conditioner contains ceramic, amino acids and silk. Look below for the formula.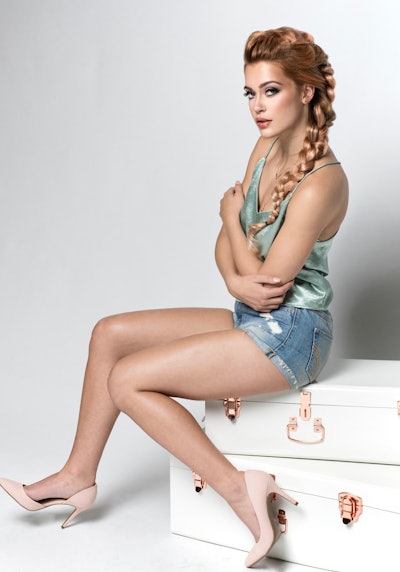 Shadow Root Formula:
CHI Shine Shades - 1 oz. of Clear + 1 oz. of 9CG + ½ oz. of 8C + Equal parts of CHI 10 Volume Color Generator            
Formula 2:
CHI Shine Shades - ½ oz. of 9CG + 1 oz. of Clear + Equal Parts of CHI 10 Volume Color Generator
Formula 3:
1 oz. of CHI Color Illuminate – Platinum Blonde
Pre-work: 
Pre-lighten the hair to a level 9 using CHI Blondest Blonde and CHI Color Generator.
Prep the hair with CHI Keratin Mist before color application to even hair porosity.
Step 1:
Start by creating a part from fringe to nape. Apply the Shadow Root Formula throughout the entire root area.
Pro Tip: Use your brush to gently smooth over the fringe area and gently lift the hair off the scalp for better oxidation. 
Step 2:
Create an Arc section, from the top of the brow down to slightly behind the ear. Repeat on opposite side.
Step 3:
Create an inverted T at the nape. Then apply the Shadow Root Formula to the bottom section and massage into strand.  
Step 4:
At the occipital bone sections, apply Formula 2 to create dimension. 
Step 5:
Weave a few strands of the next section using your fingers. Leave the bottom section its natural color and apply Formula 3 CHI Color Illuminate Platinum Blonde to the opposite strands on the same section. 
Pro Tip: At the crown, you can alternate between using the weaving technique and taking the entire section to create more depth. 
Step 6:
Take diagonal parts and repeat the techniques from step 3 to 5 throughout the side and fringe. Repeat on the opposite side.
Process for 30 minutes at room temperature.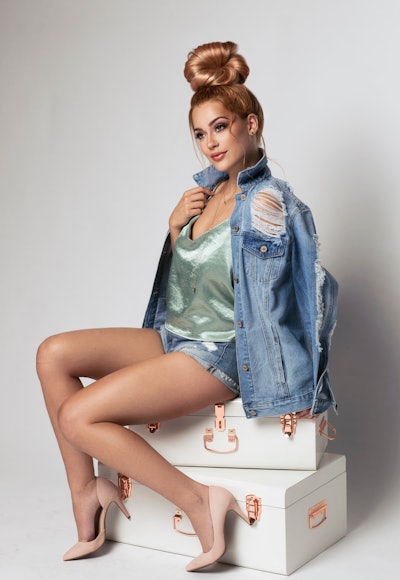 At the shampoo bowl:
Step 1
Rinse hair thoroughly and create a toner formula by mixing CHI Color Illuminate Conditioners in Golden Blonde + Red Auburn. 
Pro Tip: You can use the same CHI Color Illuminate formula mixture to maintain the peaches and cream color.
Step 2
Rinse and shampoo with CHI Infra Shampoo and condition with CHI Color Lock Treatment for 5 minutes and rinse. Towel dry, blow dry and style. 
CREDITS: 
Color/Styling: Anna Cantu @anna_cantu
Makeup: Jannette Marin @jannettemarin.m.u.a
Photography: Mohammed Ghanayem @nishan_ghanayem