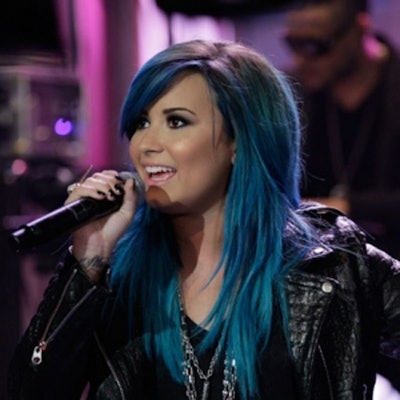 Is blue the new black? According to Hollywood, the answer is yes! Last week, two young, well-known, raven-haired beauties debuted fun new looks within the same color family. A day after reality star Kylie Jenner posted a picture of her new hair with the undersides dyed a deep, bold blue, singer/songwriter Demi Lovato debuted a full head of bright blue locks.

According to PRAVANA Artistic Color Director Vadre Grigsby, blue is a perfect substitute for black hair, since "blue is a natural complement to the complexion of dark-haired ladies. The trick is how to get the right shade of blue as there is such a wide array of shades. We currently see celebrities wearing blues from deep sea foam to navy and every shade in between."

Though the look may be flattering, it does take a bit of prep work. "When starting with dark hair, this can be tricky," says Grigsby. "Dark hair must first be lightened to a light shade of blond and then the blue can be placed over these lightened pieces to be more visible."

Are your clients digging the trend? PRAVANA has provided formulas and step-by-step instructions to help you give your clients Demi and Kylie's looks, or create a unique shade of their own.

To create Demi's Teal-ish Tresses, use:
¼oz VIVIDS Blue + ¼oz VIVIDS Green + 1oz PASTELS Blissful Blue + 1oz PASTELS Mystical Mint + 1oz VIVIDS Clear

To replicate Kylie's Blue Hue, use:
2oz VIVIDS Blue + ½oz PASTELS Blissful Blue + ½oz VIVIDS Clear

To craft a Vibrant Cool Blue, use:
1 ½oz PASTELS Blissful Blue + ¼oz VIVIDS Blue + 1 drop of VIVIDS Violet

To achieve a cool Mint Blue, use:
1 ½oz PASTELS Mystical Mint + ½oz VIVIDS Clear + 1 drop of VIVIDS Blue
 
Step 1: Mix Pure Light Power lightener with 30 volume developer.

Step 2: Apply this mixture to the areas where you ultimately want the blue to be visible.

Step 3: Process the Pure Light mixture at room temperature as it lifts through red to Orange and then from Orange to Yellow and continue lifting until almost all the yellow has been removed (Remember Yellow plus Blue equals Green and unless you are looking for a tealish-blue, you want to make sure that yellow is almost all removed).

Step 4: Once you are sufficiently lightened, shampoo out the Pure Light, rinse, condition and dry the hair completely.

Step 5: Apply your Blue VIVIDS mixture of choice to the areas that have been lightened.

Step 6: Once applied, let the color process at room temperature (no heat required) for 20 minutes, then rinse thoroughly until the water runs clear.

Step 7: Shampoo lightly with VIVIVDS Color Protect Shampoo and follow with VIVIDS Color Protect Conditioner, rinse and style.