My client Angelica came in and wanted a change. Angelica is a busy CPA in the day, manages Latino Rock Bands at Night and is a full time mother as well. With her busy schedule, she wanted something easy to style. She also wanted something fun and wild to fit in with her rock band crowds, while at the same time conservative to fit in with her role as a CPA.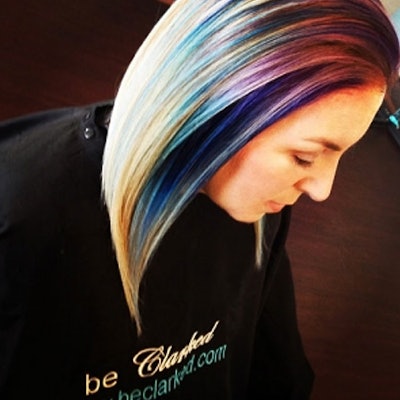 We wanted to create a vision that was edgy and bold, yet low maintenance and sophisticated as well. With the ombre fad having its moment for heavy boldness we didn't want to go with a full on ombre but wanted to show a hint of it, especially to accommodate Angelica's conservative side.
To keep Angelica's hair easier to manage and sophisticated we decided to go with a LAB (long A-line bob). To start the cutting process we used Framesi Color Barrier tape to tape off the angles for the LAB. The tape allows for an easy visual guide of where you want the exaggerated angles to meet. This was a technique taught by Be Clarkeducated Master Hair Cutter Jon Clifford, for our be Clarkeducated classes.
After the initial pre-cutting was complete it was time to start on color. Angelica never makes time for herself, so she had over 4 inches of outgrowth (shame on her). I had to break her base to blend with her ends, so I did a half head highlight. I used Framesi d-colour B bleach with 25 vol Ossidor developer, using fine weaved sections, lifting her to a level 8. I knew I wanted to keep her color cool, so I toned her to a nice beige color, using Framesi Framcolor 2001 20cc 11A and 20cc 11B with 15 vol proxima developer.
After rinsing, I dried the hair to see the new palate I was working with. I had some pre-colored hair pieces that I used for a shoot before to see where I wanted to put in some placement colors for the ombre. This is a great way, especially for bold colors like this to get your placement accurate placement down.
Angelica usually parts her hair at her left eyebrow, so we wanted to leave the color mostly conservative for this parting area for her "day job". The parting was above her left eyebrow. I isolated the crown, then sectioned off the part line to mid-scalp and down to the ear. For the first panel I started an inch down from the initial part line and took a half inch section. I used the Framesi color barrier tape in place of foil so that I could prevent color bleeding and see the color transition well. I started with "Pravana ChromaSilk Vivids Violet" at ¼ inch off the roots about 2 1/2 inches down the panel. Then I used "beyond the zone color jamz tripped up turquoise" color on the ends about 3 inches up towards the middle. I then took "Pravana ChromaSilk Vivids Blue" and blended it in the middle of the panel to the purple and the turquoise. I repeated the step on the reverse side. After processing for 20 minutes we rinsed the sections with the color barrier tape still on. This helped protect from the color from bleeding into the other hair. We then styled the hair using the be Clarked "straighten up" leave in conditioner and straightening balm with color protection, and flat ironed to finish the hair cut to get a precise angle.
What is great about this color placement is that depending on the parting and styling, the color can be seen as bold or conservative. Paired with the long A-line bob, the look is chic and sophisticated but the color gives it that edge Angelica was looking for. The color will also fade out over time, so by the time Angelica is done with a hectic tax season she can start with a whole new look. -Clark Russell, Clark Russell Salon
Check out more photos from this stunning transformation HERE!
Celebrity Stylist Clark Russell, owner and creator of the be Clarked luxury product line and Clark Russell Salon, has been featured on several television shows and publications as a stylist, colorist and commentator. Clark and his salon team recently placed as a top salon team in the nation in the Battle of the Strands 2012 competition. Clark's be Clarked company has just launched their new be Clarkeducated educational series, dedicated to inspiring and educating hair professionals at all levels.