I had a new client that came from seeing some of our make-overs on Facebook. She had been going to a hairstylist, but never got the color she really wanted. She was looking for a new chic look for Spring and was open to ideas on what to do with color.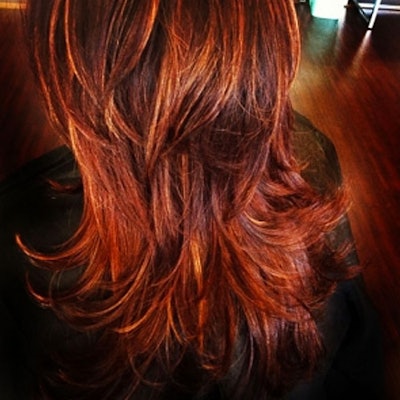 The client had come in with a level 5 neutral solid color base. The color level as a base was ok but, but I wanted to warm her up a bit and give her high shine. I decided to color her base with Framesi Framcolor 2001 5W (woods collection) with 20 Volume Ossidor Developer. This would give her a richer brown with more warmth and shine.
Then I did a full head highlight and lowlight using De Colour Diamond Bleach from Framesi with 25 vol Proxima Developer, lifting her hair to a level 9. I used the Diamond developer because it gives more shine and also because it lifts evenly. I low lighted her with Framesi Framcolor 6HR (hot red collection) with 15 vol Ossidor Developer. This would give her a really rich warm mahogany dimension.  
After rinsing, I toned all of the clients hair with Framesi Eclectic with 30 cc 8RDE and 10cc 8NE with Basic Developer. What I love about Framesi color is incredible shine and rich color. By adding Framesi Eclectic as a toner it also give ultimate heat protection against heat styling and helps defend against color fading. Overall this gave the client a warm dimension of teak and mahogany tones, with high shine.
I finished the make-over by giving the client more layers to give her more body. I wanted to bring out the style so I used my be Clarked "straighten up" leave in conditioner and smoothing balm protect the color and smooth texture. I also used my be Clarked  "ego boost" volume and texture spray on the roots to get ultimate volume and shine, and round brush styled her hair. I finished the look with the be Clarked  "arrogance" three in one hairspray on the fine hold spray setting. The client was ecstatic with her new look. -Clark Russell, Clark Russell Salon