Trend forecasters are telling us that gray hair color will be hot in 2013! Recently, artist and jewelry designer Malu Byrne went gray for a feature on Vogue Daily. (If you are wondering if Malu is related to musician Davide Byrne -she is his daughter.) We spoke to Malu's colorist Aura Friedman for the inside scoop on how she created the look and tips for going gray.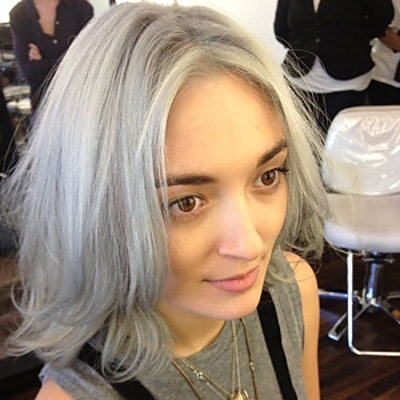 Could you share the formula and products used on Malu Byrne?
Virgin Application - I used Blondor Cream and Extra Cool Blondor with 40 Volume Peroxide from mid-shaft to ends, first the Blondor Cream and ECB w/20 volume on the roots. After bleaching everything to a very pale yellow, I used the Wella Professionals Brilliance Shampoo and Wella Professionals Service Conditioner to even out the porosity of the hair for about 5 minutes. Then I used Illumina 7/81 with double Pastel developer for my root shadow and Illumina 10/1 with double Pastel developer for mid length to ends.
Was it Malu's idea to go gray? Were you surprised that she wanted to go gray?
It was Malu's idea. Her father is all white, and his hair inspired her. I wasn't hugely surprised - I've been doing it for years. Gray hair was a huge trend in 2008/2009.
Some of the stars that have gone gray include Pink and Lady Gaga. We've also seen a lot of the lilac-gray trend with celebrities like Kelly Osbourne, Ellie Goulding and Marina Diamandis. Do you think this is a trend only celebrities can pull off or will everyday women be wearing this trend as well?
I think that any color can work for anyone as long as it works with the person's skin tone, eye and brow color - and of course their personality! Suitability is always important.
What are your tips for maintaining the gray hair look?
It requires a lot of maintenance, touch ups every 4-6 weeks and The Brilliance Shampoo and conditioner. It is very important to do a weekly Brilliance Mask Treatment.
What other trends do you predict will be hot in 2013?
Definitely all different tones of platinum, silver and gray and peachy, pinks, beige, taupe's in the spring. I still see a lot of color, bold and pastels. Redheads are abundant from paprika to strawberry blondes. Brunettes are more violet-y toned.