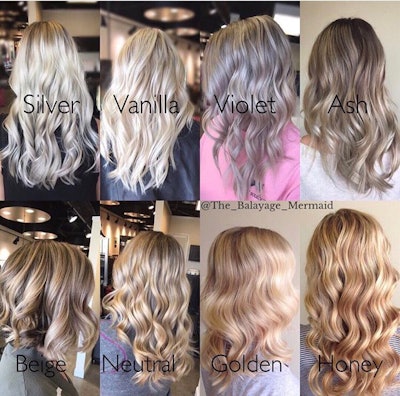 Raise your hand if you've ever had a client ask for golden highlights and then say, "Why do I see warmth in my hair?" Or my personal favorite: "If I see any yellow, I'll shave my head!"
Well now, let's not get crazy. Guard your clippers, and take some time for a consultation. From silver to honey—and all the shades in between—toners are key! Anytime I have a new blonde client in my chair, we take time to look at pictures! A client who hates yellow will show you pictures of anything from pure white to almost blue. Terms subjective, and so is how we view color. Save yourself the headache, and pull out the chart above!
Now comes the fun part. Is the desired color even possible in one appointment? As hair stylists, we love to please our clients. Having them believe we posses some sort of magical powers is a nice feeling. Truth bomb alert! Your client wants you to be honest about the process with them. Clients depend on your knowledge. I have even seen eyes light up in my chair because my knowledge makes them feel safe and excited!
Embrace your knowledge, talent and toners! You've got this, and happy blonding!
For more blonde inspiration, visit @the_balayage_mermaid!
[Images courtesy of Melanie Scheel]