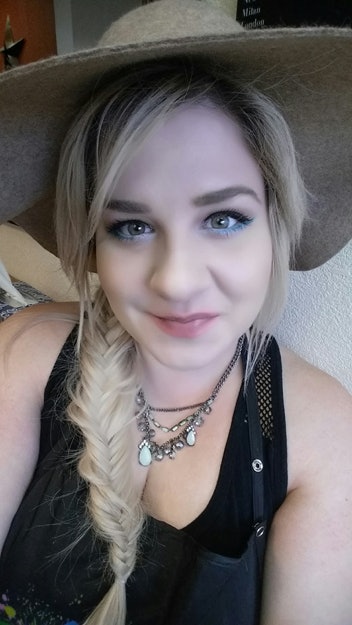 Megan Campbell, aka @sheartale, is back with more great ways to use Guy Tang's new #Mydentity color line! (To see her previous transformation, click here.) But before we get too deep into formulas, here are four pointers for coloring hair she got from Guy Tang himself:
1) Measure the color accurately. Preferably with a scale.
2) Use the appropriate timing. Don't rush it; let it process.
3) Trust the process. Trust the color wheel. Same rules of color theory apply to this color line. Color will enhance, or neutralize underlining pigment.
4) Have fun!! Use your creative friendom! Mix and match as much as possible!
So keeping those in mind, first up, a cool, rosy pink: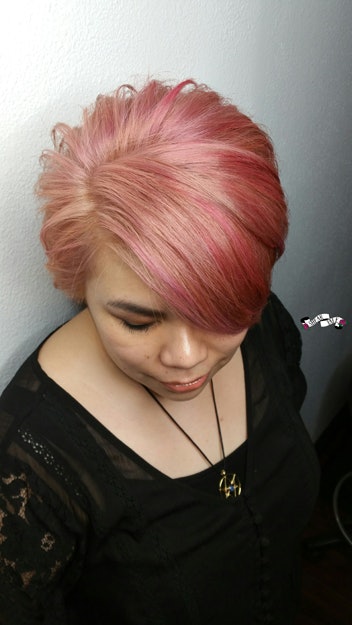 Formula:
Big 9 with 40 volume lifted to a level 9 and toned.
Color:
1.5 oz of permanent 10RG Rose Gold
1.5 oz of permanent 9AR Amber Rose
3 oz Mydentity 20vol dev
3 ribbons of Duel Booster Pink Glow
Process for 30 minutes, then apply straight DB Pink Glow in a zigzag weave pattern along the top and left side. Then process for another 15 minutes. That's it!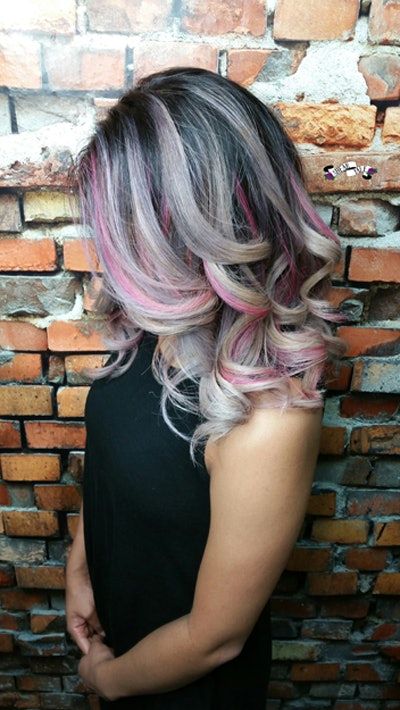 Next, for this violet and pink look, Megan used two formulas of #Mydentity Big 9 with Olaplex.
She used back to back slices of a medium weave to a back-comb balayage and repeated throughout the entire head.
A) Big 9 with 40 volume and Olaplex for dark brown areas (applied twice)
B) Big 9 with 20 volume on previously lighted areas
Rinsed, applied Olaplex #2, purple shampooed twice.
Color Formulas:
Using Mydentity Demi-Permanent, Duel Booster shades, and Olaplex.
C) 1oz 10SS with 2 ribbons of Ultra Violet        1oz 6vol developer
D) 1oz 10SS with 2 ribbons of Pink Glow
     1oz 6vol developer
E)  1oz 6SS, 1oz 6DL
      2oz 6vol developer
F)  2oz 8SS
      2oz 6vol developer
G)  1oz 10SS
       1oz 6 volume developer
First, she started with the weave sections and alternated foiling the weaves between formulas C. and D throughout the entire head.
Second, she applied E. to the new growth area of the remaining hair left out and rooted it down.
Next, Formula F is applied through each section's midshaft and melted into E.
Finally, Formula G is applied throughout the remaining ends and melted into F.
Megan processed for 40 minutes, rinsed, and aplied Olaplex #2. Then she shampooed and rinsed again before cutting and styling using a 1.5 " barrel iron.
[Images courtesy of Megan Campbell]