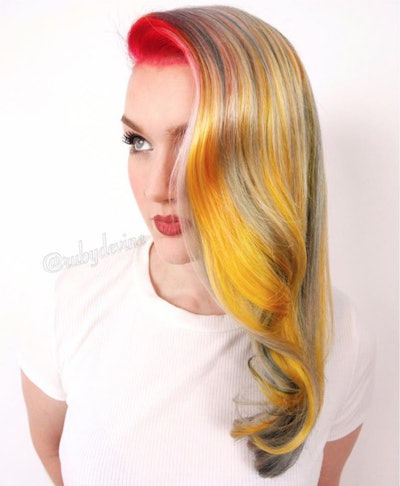 Hairstylist Ruby Devine recently created this stunning look. "This is one of the many amazing shots captured by Stevie Theoharis at Hugo Salon from my 'Behind the Artist' shoot with Pulp Riot Hair," says Ruby. "To date, this was one of the most difficult color canvases I've ever attempted or achieved."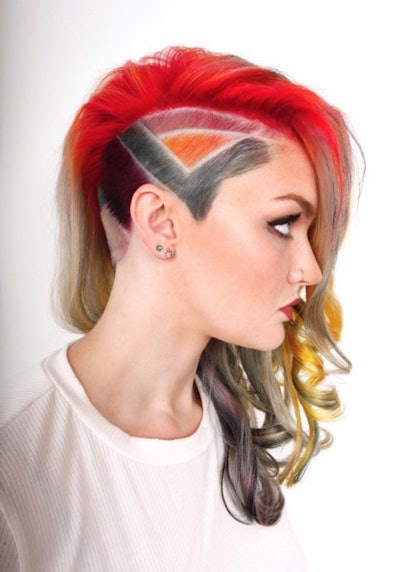 See how Ruby created this gorgeous hair color with her how-to, below!
Get the Look:
"I started by lifting [my model's] new growth using Antidot Pro and Schwarzkopf BLONDME and 20 vol., processing at room temperature for 10 minutes. I then applied BLONDME and 7 vol. through the mids and ends which IMMEDIATELY pulled out her previous Pulp Riot canvas.
"After @doug_theo did a sweet side shave and design for me on the right side, I colored using Fireball/Blush/Lemon to give a fire root and strategically placing EmBee Meche to prevent contamination from section to section.
Then, alternating triangle subsections, I did one triangle subdivided into slices, melting from the fire root Smoke, next one Clear, next one Mercury. The Clear was to preserve some blonde but maintain the beautiful shine and condition that Pulp Riot gives to the hair.
"The next triangle I did Lemon from roots to ends. I really relied on my Framar brushes for a precise application because it was imperative (especially in the undercut color) for the colors to not melt where I wanted.
"I finally finished her with a blow dry set using my Olivia Garden #35 and smoothed out the curls, topping it off with Kenra Silkening Mist, my GO-TO for shine and finish for pictures.
"Thank you again so much to everyone involved!" continues Ruby, "and a special shout-out to Alexis Hall - I seriously wouldn't have been able to pull this off without her. It took nearly 20 minutes just to rinse this out safely - no joke!"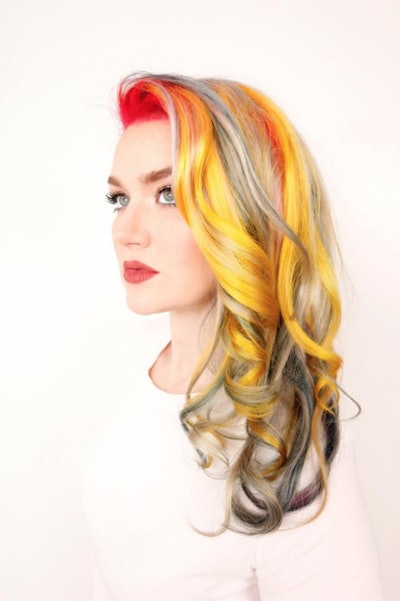 To see the full video interview and process for this look, visit Pulp Riot's YouTube channel!