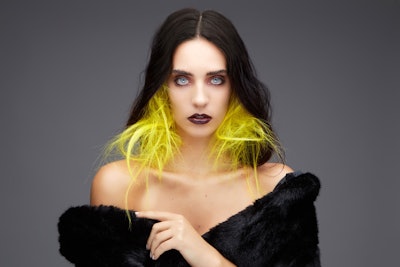 Karen Cunningham, National Artist for KMS California, was inspired by the contrast between light and dark when creating her latest look, Electric Shock. Emphasizing the darkness of her model's hair, as well as the lightness of her skin, Karen created a look that's both refined and electrifying. Feeling inspired? Recreate the look in the salon with Karen's how-to, below!
Get the Look:
Color: Designed clip-in extensions using human hair tracks overlaid with Goldwell Elumen YY@ all.
To style, set the hair using KMS California FREESHAPE 2-in-1 styling + finishing spray and hot rollers.
Once cooled, brush the hair and part it in the center.
Clip in the extensions on both sides.
Next, gather all the hair at the nape of the neck and secure it into a loose ponytail.
Loop the tail through and pin underneath to create a faux bob.  
Then apply KMS California HAIRSTAY dry xtreme hairspray to the extensions, massaging them open and pushing select strands upward with your fingers.
CREDITS
Hair: Karen Cunningham
Styling: Karen Cunningham
Makeup: Megan Wrigley
Photographer: Andrea Urbanati
Model: Brittany Rose