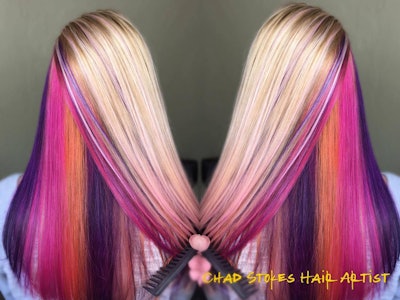 Colorist Chad Stokes recently created these bright, fun underlights for his client. Says Chad, "I used inspiration from a fellow colleague and educator Ruby Devine!" Recreate this perfect-for-summer look with Chad's how-to below!
Get the Look:
Says Chad, "After a base retouch of Paul Mitchell the color HLP with 40 volume, I surface-painted balayage with Guy Tang Enlightenment to create the dimension in her blonde.
"I then used Joico Amethyst Purple/Indigo, Hot Pink/Pink, and Orange, all with a dose of Olaplex No.1 (I don't dilute, it keeps the color holding longer!).
"I did small square panels of each color to create the finished piece. I used a cat eye shape on top to keep the blonde out of the equation!"
For more from Chad, follow him on Instagram @chadstokeshair!