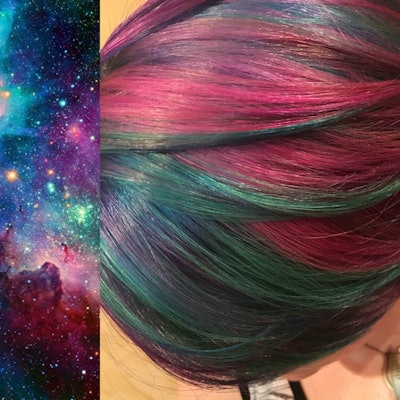 Goldwell Regional Artistic Team member Tiffany Blair recently created this gorgeous, galaxy-inspired look. Rich, inky indigos and emeralds intertwine with shimmery magentas and fuchsias for a nebulous, galactic effect. Recreate this on-trend look (perfect for your clients' upcoming festivals!) with Blair's hair color how-to, below!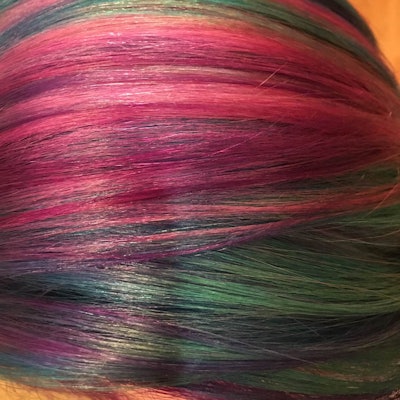 Get the Look:
FORMULAS
Formula A: 20ml VV @ all
Formula B: 10ml Bl @ all+15ml Tq @ all+5ml Pk @ all
Formula C: 20 ml Tq @ all+20ml Clear
Formula D: 15 ml Pk @ all+25 ml SB @ 10
HOW-TO
Pre-lighten hair with 35ml Topchic 6% (20vol) lotion + 1 scoop Oxycur Platin Dust-free Lightening Powder to a level 9.
Next, apply Elumen Prepare to towel-dried hair from roots to ends, then dry hair.
Starting at the back of the crown, create a triangular section on the top of the head.
Apply Elumen VV @ all to the remaining hair.
Starting at the widest part of the triangular section, rotate each formula using a slicing technique. Process for 30 minutes.
Shampoo twice with Elumen Wash and towel dry thoroughly. Apply Elumen Lock for 5 minutes. Rinse and condition with Elumen Treat.