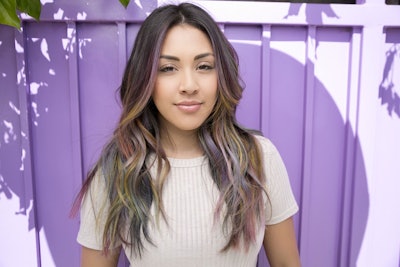 Stylists know that when clients come in requesting creative color, brunette beauties can be a bit more challenging than their blonde counterparts thanks to the necessary pre-lightening involved in the process. Thankfully, rainbow hair isn't just for blondes! With the oil slick hair trend, even dark-haired beauties can rock the rainbow look without having to do extreme lightening from roots to ends.
Oil slick got its name from the iridescent, intertwined rainbow shades found in spilled oil on the ground. The look, with its dark base and less-extensive required lightening, is an ideal technique for brunettes!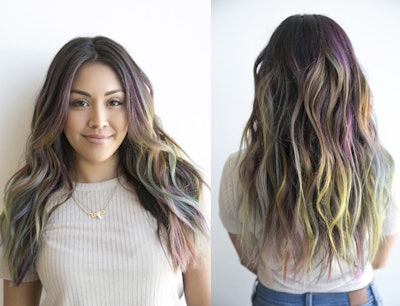 PRAVANA Guest Artist and colorist at Sally Hershberger LA Jessica Gonzalez created a gorgeous, soft, spring version of the oil slick hair trend using the new PRAVANA VIVIDS jewel-toned shades combined with pastel colors. By incorporating deep, inky strands into the softer shades, the final result is a perfectly colorful, multidimensional transition into the warmer spring and summer months.
Check out the video below for a PRAVANA how-to, filmed on location at Sally Hershberger LA
To maintain rainbow hair like oil slick, arm your clients with the VIVIDS Color Protect after care line, complete with a gently cleansing sulfate and salt-free shampoo, a moisturizing conditioner and Sealing Spray.
CREDITS
Colorist: Jessica Gonzalez
Model: Jessica Lesaca
Photographer/Videographer: Huck Hinshaw