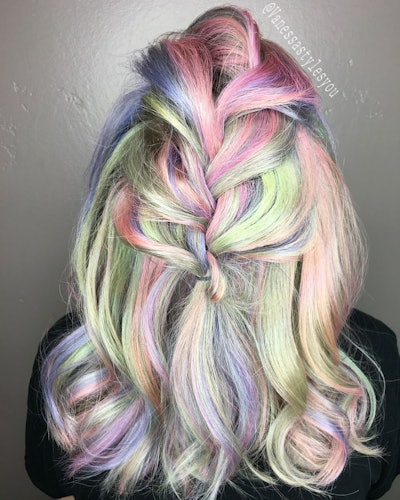 Hairstylist Vanessa Fermin recently created this pretty pastel hair color for her guest. With on-trend rainbow hues of pink, mint, and periwinkle and a subtle metallic sheen, the look is simply stunning. Below, Vanessa shares her how-to so you can recreate this Fairy Dust hair color in the salon!
Get the Look:
"The first step is to lighten hair to a level 9," says Vanessa. "I did this by using Schwarzkopf Professional BLONDME Lightener and 30 vol. [Then, I let] the hair process for 20 minutes.
"When processing was finished, I washed the hair with Matrix So Silver Shampoo. When that was finished, I took my client back to the chair and fully dried the hair.
"My colors of choice to create this look were PRAVANA's Blissful Blue, Too Cute Coral, Mystical Mint, Silver, Pink, and Violet. I mixed 1 tube of Mystical Mint with 3 pea-sized drops of Violet and mixed well to create the lavender seen. In a separate bowl, I mixed my Pink with Too Cute Coral and added about 6 pea-sized drops of NEON Pink. It helps to deepen the pink. Then I separated my Silver, Blissful Blue, and Mint in separate bowls.
"For the application, I sectioned in four sections. Starting from the back using a panel technique, I painted each color and separated sections using PRAVANA mesh strips.
"After I finished that, I let the hair process for 20 minutes and then washed hair and styled, and that is how Fairy Dust was created!"
For more from Vanessa, follow her on Instagram @vanessastylesyou.