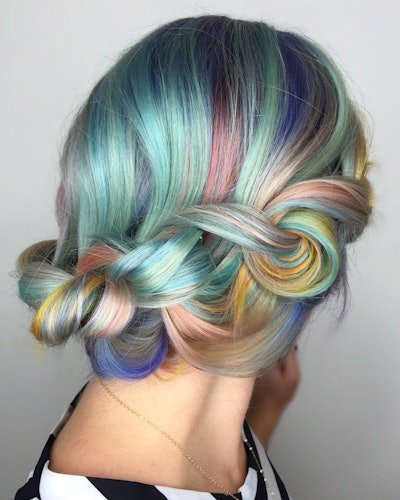 Hairstylist Shelley Gregory, stylist and colorist at Atelier Las Vegas, recently created this stunning, multi-colored look for her client. Says Shelley, "I think this would be great for holiday hair - [it] reminds me of a rainbow candy cane and the glitter part/roots would be so fun for any holiday party or New Year's Eve!"
The look is characterized by intertwining pastel shades, contrasted yet complementing one another perfectly. "My inspiration for this hair was I wanted see and feel how it feels when you walk into a Lauderee, the French macaroon shop," says Shelley. "I loved seeing all the different rainbow hair but I wanted take it up a notch with layering pastel colors in a soft, romantic way. So the color stands out and looks trendy but is still chic and approachable."
Recreate this gorgeous rainbow look with Shelley's how-to below!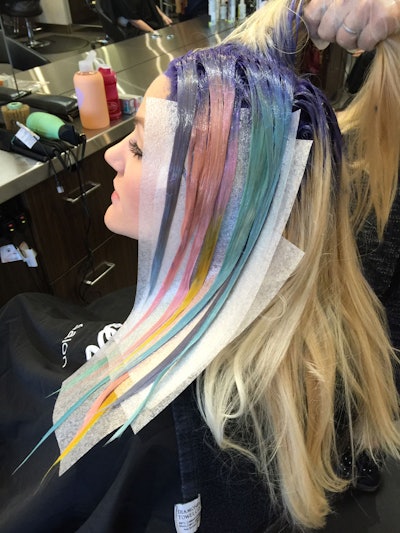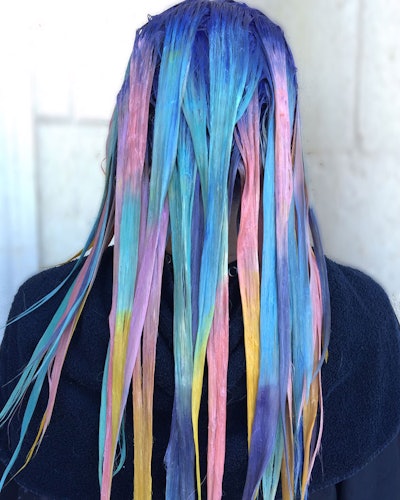 Get the Look:
"Start with pre lightened to a level 10 hair.
"Mixed in seven separate bowls: PRAVANA: Silver, Too Cute Coral, Mystic Mint, Violet + Clear (1:2), Blissful Blue, Pink, Yellow
"Apply the entire base of hair feathering about 1.5 inches out with the violet mixture.
"Starting from the bottom nape, take diamond and triangle shaped sections, alternating the size of the section depending on density (1"-.5"). Apply Embee Meche between sections to keep clean.
"Paint each section at least 2-3 colors alternating mid-shaft to ends (I even did a couple rainbow strands with all the colors), trying to keep lighter colors where you want the light to reflect and darker where you want depth.
"Process without heat for 30 minutes, then rinse with cool water and condition."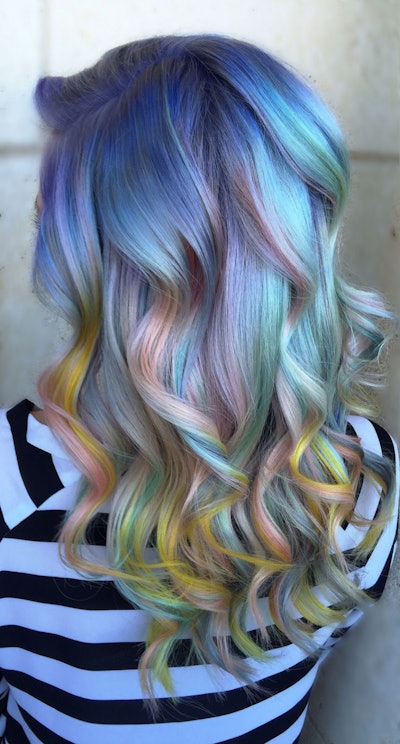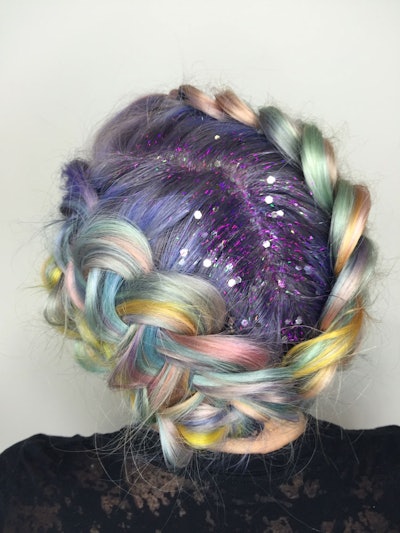 For more from Shelley, follow her on Instagram @shelleygregoryhair.