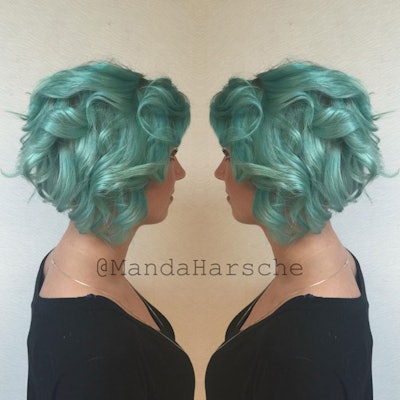 Hairstylist Amanda Harsche of Cuts N Curls in Marietta, OH recently helped a client transform her look. "My client usually goes for the 'white as possible with a hint of grey' look," says Harsche. "When her new growth would come in, she couldn't stand it, so I wanted to create something edgy but a little more manageable. We decided to stretch her new growth and give her a customized PRAVANA VIVIDS color."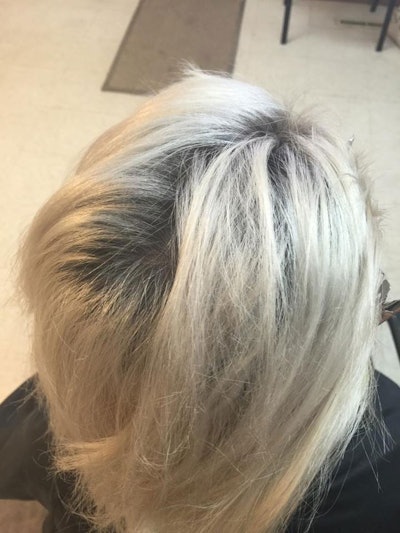 Get the Look:
Shadow root: Says Harsche, "I used PRAVANA Chromasilk 7.11 and did a staggered new growth application. I then rinsed and towel-dried.
"To even up the porosity of her hair, I wanted to follow up with a PRAVANA Silk degrees treatment. I mixed 1.5 ounces of the Silk Degrees with about 4 pumps of the Silk Degrees Shine Serum. I applied to her hair and then put a cap on her and put her under the dryer for 20 minutes. I then rinsed her hair and applied 4 more pumps of the Silk Degrees Shine Serum to her hair and dried completely.
"Customize PRAVANA mix! For this, I mixed 4 ounces of PRAVANA Mystical Mint with .25 ounce PRAVANA Green and a ribbon of PRAVANA Silver. I applied with a brush and bowl on her hair and processed for 20 minutes.
"I rinsed her hair until the water ran clear and then conditioned her hair. I learned that if you don't shampoo [the color] tends to last longer. After trimming up her undercut she was ready to go!"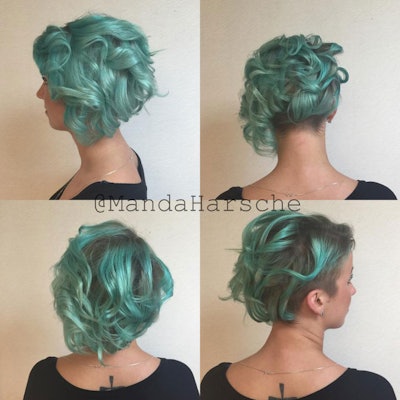 Adds Harsche, "With her shadow root she can keep that growing out a bit more and we can change up her VIVIDS color without having her new growth bother her so much. So we will let the green fade and then decide a new fun customized color for next time!"
For more from Harsche, follow her on Instagram @mandaharsche.