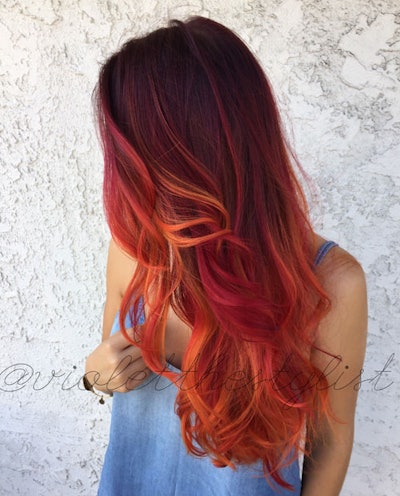 Colorist at Bouffant Beauty Bar in La Mesa, CA, Amelia "Violet" Camp, recently helped her client achieve this rich, vibrant red colormelt. Says Camp, "This is my clients starting canvas [see below]. She came in with a few inspiration pictures, but the one she kept coming back to was Guy Tang's Dark Pheonix he posted a couple months ago. We decided to use that as our main inspiration but put a twist on it so she could make it her own." Check out Camp's formulas and how-to below so you can recreate this stunning look!  
Before: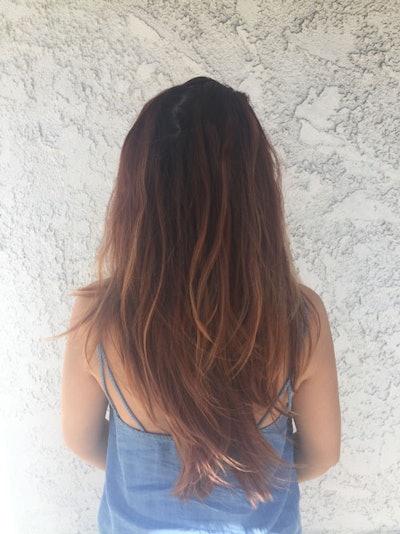 Process #1
FORMULAS:
1) L'Oreal Professionnel INOA 5.62 + 20 vol. developer
2) L'Oreal Professionnel Blond Studio Multitechnique Lightener + 30 vol. developer + Olaplex #1

"In the consultation we decided to give her a shadow root to keep maintenance low and give this high impact color a professional feel when she ties it back for work," says Camp. "Start with Formula Number 1 on the re-growth and feather it down 2.5-3 inches into the mid-lengths. Balayage Formula 2 through the mid-lengths and the ends to create brightness and contrast. I like to start at the nape and work my way forward, applying the base color and balayage at the same time to give the re-growth and balayage even processing time.

"After application is finished, process for 35 minutes. Throughly rinse Formulas 1 and 2 and follow up with Olaplex #2 for 10 minutes. Then, shampoo twice using INOA Post shampoo. Return to the styling chair and rough-dry.

"I don't work with an assistant in the salon, so I'm all about efficiency," adds Camp. "I used the 10 minutes my guest sat with Olaplex #2 to mix our VIVIDS formulas for process #2."

Process #2
FORMULAS:
(clockwise starting in the upper left)
1) 4 parts Joico Color Intensities Magenta + 1 part Red
2) 3 parts PRAVANA Yellow + 1 part NEON Yellow
3) 4 Parts Joico Color Intensities Orange + 1 large dot Red + 1 part PRAVANA NEON Yellow
4) 2 Parts Joico Color Intensities Red + 2 parts Magenta + 1 part Ruby Red

Says Camp, "Apply VIVIDS formulas to dry hair. My favorite way to apply VIVIDS is in a very organic fashion, picking up pieces and deciding on color placement depending on what I want my eye to see. With each section, I alternated saturating each piece with one formula, or melting multiple formulas so no two strands were identical.

"After application is complete, process for 20-30 minutes. Rinse thoroughly with cool water and condition with L'Oreal Professionnel Mythic Oil Masque. Return to the styling station and style as desired."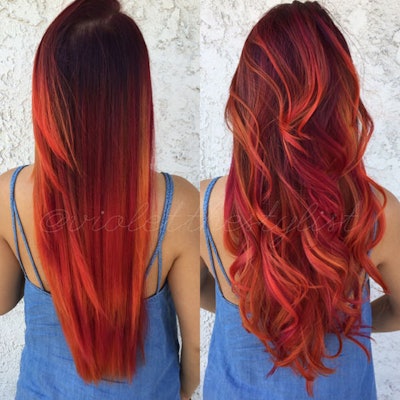 "I like to show my balayage and colormelts both straight and curled to see the movement and color placement no matter how the guest chooses to style her hair," says Camp.

For more gorgeous looks, follow Camp on Instagram @violetthestylist.

[Images courtesy of Amelia "Violet" Camp]