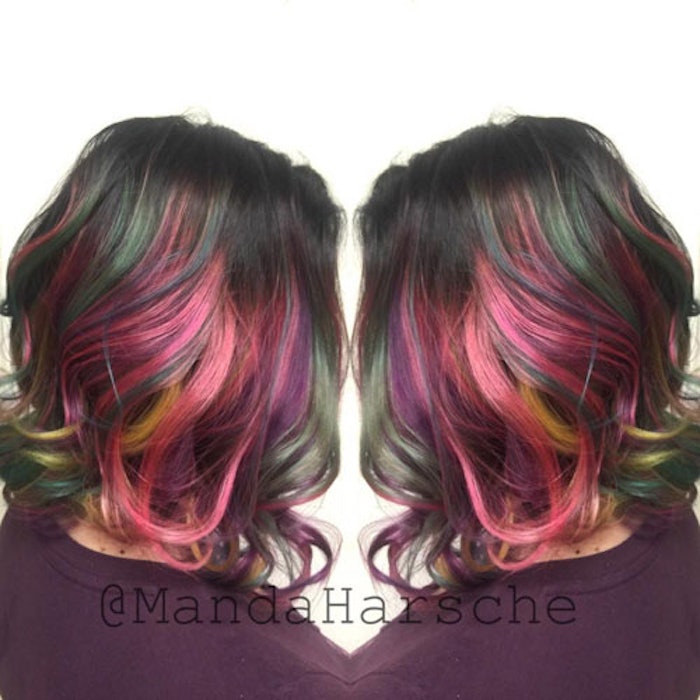 Marietta, OH-based hairstylist Amanda Harsche recently transformed her client's hair from average ombré to this bright and beautiful rainbow look. Amanda used new PRAVANA VIVIDS Locked-In colors to create this fun look. See her formula and step-by-step process, below!

Get the Look:

1. Says Amanda, "[I] started with a faded Matrix SOCOLOR 3VR to blonde ombré done about 2 months ago.

2. "Formula 1 for shadow root: 2 oz Matrix SOCOLOR 4M with 0.5 oz. 3VR 10 volume - Apply as a staggered new growth 3-4 inches down.

3. "Formula 2: Matrix Light Master with Olaplex and 40 volume - Balayage up the the shadow root application.


4. "Lifted to about a level 9/10, but since there was a buildup of previous 3VR, she pulled really, really warm. [I] toned her with ColorSync 10A to pull some of the warmth out.

5. "[Next, I] rinsed and shampooed, then dried her.

Vivid a formula: PRAVANA VIVIDS Locked-In:
Teal
Blue
Purple
Pink
Yellow

6. "Starting at the bottom nape of her head, I took down a 1-inch-high horizontal section. In that section, I alternated 1-inch sections between 2 of the Locked-In colors (pink, purple, pink, purple).

7. "I then pulled down another 1-inch-high horizontal section and alternated 2 different colors (teal, blue, teal, blue).


8. "I continued this method and switched up the alternating color combination until all the hair was saturated. She only wanted a little bit of the yellow so I only alternated that into 2 rows in the middle of the head.


9. "I processed for 30 minutes and then rinsed and conditioned the hair. Rinsing with Locked In was amazing because the water runs clear so you could really see the colors come to life in the hair!


10. "Blow drying her was the best part because every way the hair moves reveals a different color combination. Curls and braids really bring this color to life but wearing it straight is fun too! I can't wait for her to come back for a retouch so we can experiment with even more color combinations!"

For more from Amanda, follow her on Instagram: @mandaharsche.

[Images courtesy of Amanda Harsche via Facebook]