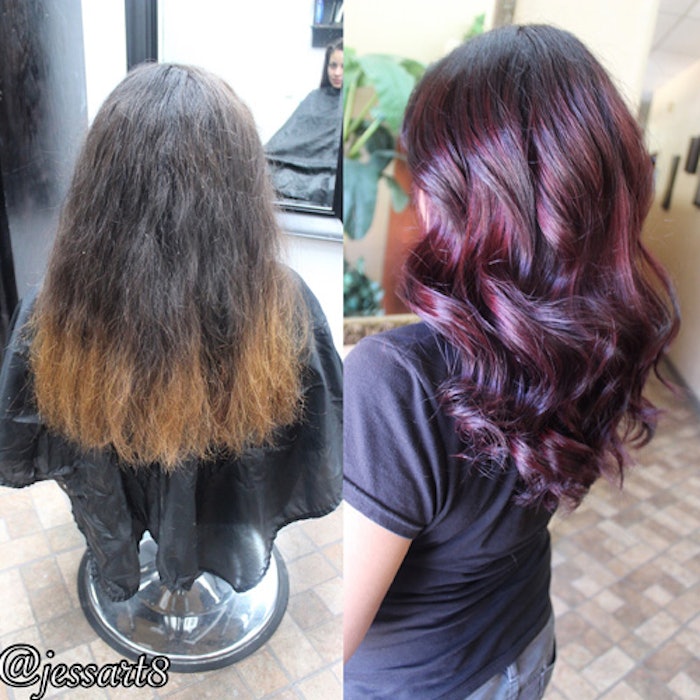 Hairstylist Jesse Vera recently had a client come to him with a harsh, unnatural looking ombré that she wanted corrected. Says Jesse, "She had gotten her ombré done elsewhere and this is what she ended up with. So when she came in, she really just wanted to blur out the harsh line to something softer and natural so that's where I came in."

Jesse was able to transform his client's locks into this gorgeous, plum-colored hue that's both natural-looking and gorgeous. Recreate the look with the how-to below.

Get the Look:
Says Jesse, "I balayaged everything with Paul Mitchell Synchro Lift 35 vol., making sure I left the ends mostly out, but still lightly feathering down into them so no harsh lines would be left. I also left her natural base for a more low-maintenance look.
"Using saran wrap to isolate the sections and capture some heat into them, I let it process for about 45 minutes.
"I rinsed with cold water, then proceeded with a rough blow-dry and toned with equal parts Matrix 4RR, 5RB, and 5RR.
"I rinsed, then followed up with Matrix Conditioning Balm, cut and styled."

The final result: perfect plum!

For more from Jesse, follow him on Instagram @jessart8.

[Image courtesy of Jesse Vera]