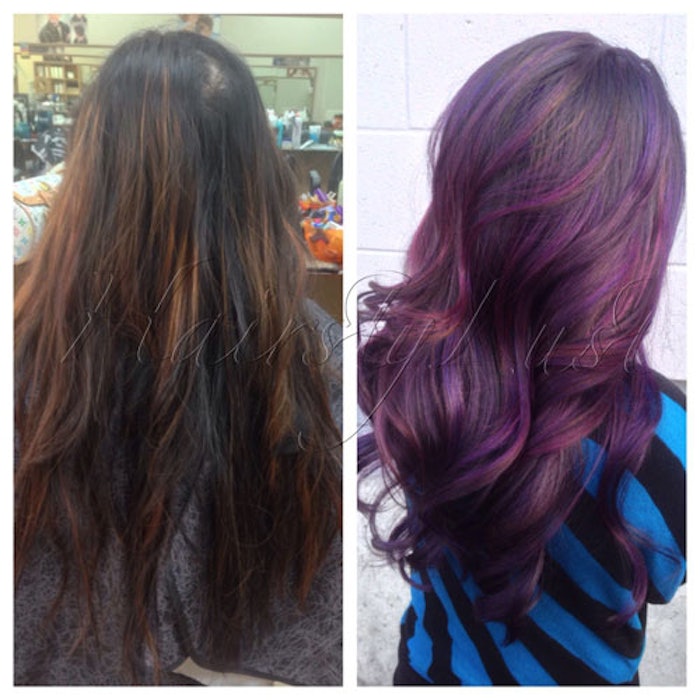 Maggie Ly, hairstylist at David's Hair and Nail Design in Saskatoon, Saskatchewan, recently helped her client transform from grown-out, faded blonde to this gorgeous, grape-colored look. Deep magenta shades mingle with rosy hues for a multi-dimensional, slightly hazy look that's seriously stunning. Recreate the look with Maggie's how-to, below.
Get the Look
FORMULA 1: 60g Wella Blondor Enlightener + 90ml 40 vol. + 1/4 oz Olaplex
FORMULA 2: 60g Joico Intensity Amethyst (base)
FORMULA 3: Foil #1 30g Joico Intensity Magenta
FORMULA 4: Foil #2 15g Joico Intensity Indigo + 15g Clear

Melt the rest of the hair:
FORMULA 5: 20g Joico Intensity Amethyst + 20g Joico Intensity Magenta + 20g Joico Intensity Indigo.
How To:
1. Says Maggie, "This is on Asian hair which was pre-lightened before, but was not blended and light enough for these intense colors. Classic foil placement throughout the head with FORMULA 1. Process for 40 minutes (no heat).

2. "Rinse with warm to cool water.

3. "Towel-dry hair to remove most of the moisture.

4. "Apply FORMULA 2 on roots for base.

5. "Foil FORMULA 3 and 4 on top of the head, sides, and back with pie-shaped slices, leaving 1.5-2 inches in between.

6. "Apply/melt FORMULA 5 for the rest of the hair. There's no developer used for the Intensity colors, so it can be processed up to 45-60 minutes without damaging the hair.

7. "Rinse with cool water, towel-dry hair and apply Step 2 Olaplex, comb through, and wait 10-15 minutes.

8. "Rinse Olaplex, shampoo, and condition hair.

9. "Desired haircut/trim and style."

Maggie's Tips:
"This look took me 5 hours from start to finish. Let the guest know, if they have old color that is not at least a level 8 or lighter, it has to be pre-lightened first before these intense colors will show their vibrancy. And, to have a great color, the stylist must put that time in to do a good, thorough job when applying these colors into the hair. When the color starts to fade, it will fade beautifully into lighter pastel colors."  

For more from Maggie, follow her on Instagram @HairstyLust.

[Images courtesy of Maggie Ly]