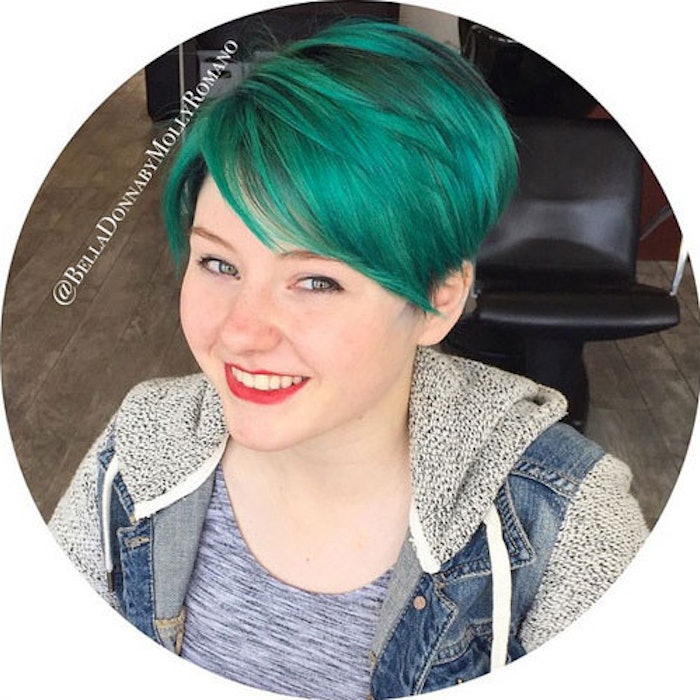 Hairstylist Molly Romano recently helped her client go from bland box color to this gorgeous, vibrant teal. After putting her client on a hair-strengthening regimen for 3 weeks, Molly was able to correct the color and give her guest a brand new look. Below, Molly shares the steps she took to create this stunning, peacock green hair color.


Get the Look:
Says Molly, "This young girl came in with layers of harsh, red, box color on her hair; she wanted to go to teal. I did a clarifying treatment on her, haircut and a strand test, and it seemed okay, but was NOT lifting. I knew I needed more time to devote to this project, so we booked her for 3 weeks later and recommended that she use Schwarzkopf Fibre Force Shampoo and Conditioner to strengthen her hair before we did the corrective color.
"We first used Malibu CPR to remove the box color. This resulted in a much lighter color, but orange.
"We used PRAVANA Color Remover resulting in a light yellow tone.
"I mixed up Schwarzkopf Igora Vario Blond with 30 vol. and Olaplex. I applied using a balayage technique to avoid touching the scalp so we could get a 'rooty' look. Rinsed and dried.
"We applied Schwarzkopf Metallics 4-29 and 6-32 with 10 vol. for the roots to have a dark, metallic, 'rooty' look, and applied Blue Joico below the roots and feathered in a few pieces to the ends. The rest of the hair was Joico Peacock Green and a dash of Blue.
"We rinsed, then applied Olaplex Part 2 and let sit for 20 minutes. [I then] shampooed, conditioned, and styled. The client was extremely happy with the result!"

For more from Molly, follow her on Instagram @belladonnabymollyromano.

[Images courtesy of Molly Romano]