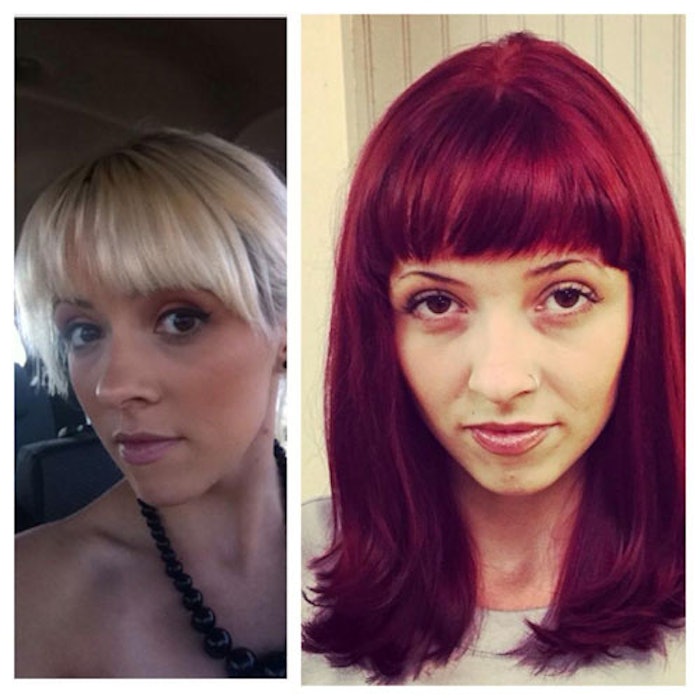 A good colorist knows the value of mastering the art of creating a great redhead. Lisa Buckles, Goldwell Educator at fresche salon in Atlanta GA recently had a guest come into the salon with a DIY job that left uneven tones and compromised hair health. Here's how Buckles turned up the volume:

Get the Look: Fiery Red
Shampoo hair with Goldwell Dualsenses Rich Repair Shampoo and blow dry.
Spray Goldwell Dualsenses Color Structure Equalizer to even out the porosity.
Apply 40 ml Goldwell Colorance Lotion, 10ml 7RR Max, 5ml 6RV, 5ml 6K and process for 30 minutes.
Blot hair with towel and apply Goldwell Topchic 40ml 10 volume, 20ml 7RR, 20ml of 6RV and process for 30 minutes.
Shampoo with Goldwell Dualsenses Color Fade Stop; towel dry.
Glaze with Goldwell Colorance 40ml Lotion, 10ml 6RV and 10ml 7RR Max Reds.
 
Note: For added shine, apply Goldwell Dualsenses Color Leave-In Serum before styling.

"I love red hair, it's my favorite color to create," adds Patrick McIvor, Artistic & TechniCulture Director for Goldwell and KMS California, "but keep in mind that people get specific when describing blondes and brunettes – they're caramel, golden, warm, cool, rich, etc., but when it to comes to red, everyone's simply a 'redhead' whether they're orange or wine. It's actually the second reflect color that is the more important color to consider, because it's the orange, violet, gold or copper in the red that the eye responds to."

[Image courtesy of Glow Communications]