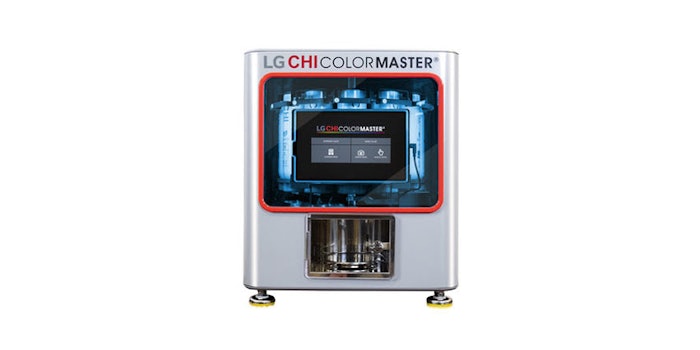 Fast, flawless color formulation is vital when a hairstylist is working back-to-back hair color appointments. A new machine from LG and CHI may be the solution busy salon workers have been looking for as it dispenses mixed hair color in under two minutes.
The LC CHI Color Master Factory is the brainchild of Farouk Shami, Ph.D., and LG H&H. The machine "is a digitally controlled color customization system that has 30,000 recommended formulations with the possibility to create unlimited color formulations with exact precision to make stylists' artistry come to life."
The Details
The LG CHI Master Factory offers formulations for permanent, semi- and demi-permanent color formulations with ease to lift and tone up to three levels.
The machine can customize formulations, provide gray coverage and tint back options with 108 shades and eight additives from the color chart with color formulations that are ammonia- and PPD-free.
There is a simulation mode that allows clients to try on hair colors prior to application.
When formulating color, the machine can be manually programmed using the touchscreen display or managed via a tablet or smartphone using the Colormaster app.
The LG CHI Color Master Factory offers a client management system that will store clients' formulas and photos for their next appointment.
Twelve recyclable cylinders help to reduce bottles, tubes and boxes normally used for hair color.
Product waste is reduced by 30% because of built-in sensors and a scale that help achieve precise measurements during formulation.
The dimensions of the stainless-steel cabinet are 18" X 22" X 22".
The machine weighs less than 100 lbs. and is completely silent.
Interested? Your salon can lease the LG CHI Color Master Factory for $100 a month. Learn more here.