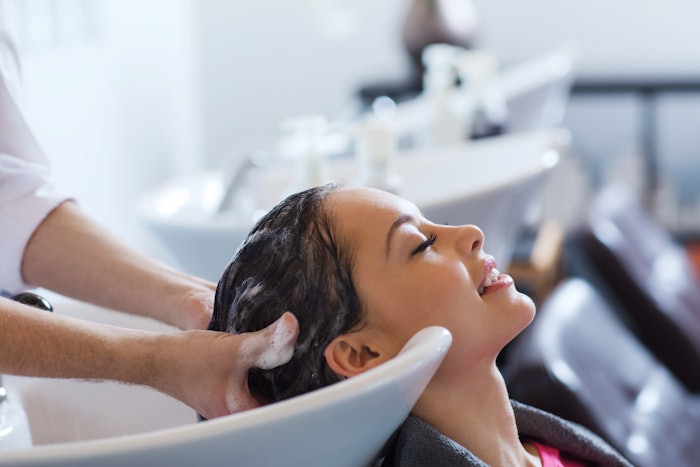 "Skinification" of hair, a trend that has gained popularity in recent years, is expanding its reach in professional hair care. The trend is led by growing consumer awareness that the benefits of a good skin care regimen can be expanded to the scalp, which is essentially an extension of the facial skin. Professional salon brands are taking cues from social media-savvy millennials and progressing beyond traditional shampoos, conditioners and masks to design a hair care routine heavily influenced by skin care.
Consumer willingness to spend time and money on quality products boosts manufacturers' vigor to formulate new and innovative products such as scalp exfoliators, toners and serums to meet consumer demand. Based on data found in Kline PRO US, we have put together a detailed, step-by-step, skin care-inspired hair care rituals.
Step 1: Cleansing
Hair cleansing, or clarifying, shampoos remove product buildup, dirt and impurities, resulting in a squeaky-clean scalp. 
Step 2: Exfoliating
Clogged pores not only congest facial skin, but the scalp, too. Gentle scrubs and exfoliators refresh and revitalize the scalp by removing dead cells and rebalancing sebum production.
Step 3: Toning
Toners/tonics help to maintain optimum scalp health that is necessary to stimulate healthy hair growth. They detoxify and provide relief from scalp itchiness and irritation. 
Step 4: Damage Repair
Much like face serums, hair serums are potent formulas that nourish and repair damaged hair. 
Step 5: Moisturizing
What is better than a moisturizer? A multitasking moisturizer! A product such as Tea Tree Hair and Body Moisturizer Leave-In Conditioner from Paul Mitchell can be used from head to toe to moisturize skin and quench thirsty strands. Kline PRO's Q2 2020 ranking of treatments has it among the top five.
Step 6: Nourishing
Hair oil, an important ingredient in the hair care regimen, imparts intense nourishment to dry and damaged hair. Hot oil treatments are a popular option to strengthen hair cuticles. 
Step 7: Protection
Protection from harmful UV rays is as important for the tresses as it is for the skin and body. 
Step 8: Finishing
First seen in the Kline PRO US database in 2019, hair sheets are a revolutionary, skin care-inspired product. Hair sheets, much like popular Korean facial sheet masks, are like towelettes that can be swiped on hair to reduce frizz and static on the go. Brands have adapted well to this innovative technology to create diversified formats of products like the Redken All Soft Mega Recovery Tissue Mask Cap, which is designed like a conditioning shower cap.
"Skinification," as a trend, has gained momentum and paved the way for product innovations to ensure there is more to a hair routine than a simple wash, rinse and occasional mask. Such a beauty trend is keeping manufacturers on their toes to meet the consumer lifestyle needs in this fast-paced world.
Kline PRO is a comprehensive interactive database that enables users to access the latest performance data on the professional hair care industry. Based on actual salon transactions from a panel of thousands of salons, it yields category, brand and product-level sales and service data on a quarterly basis.