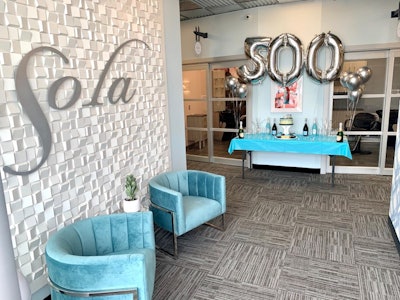 Sola Salon Studios opened its first location in Denver, Colorado, way back in 2004. Since then, the company has revolutionized the salon studio industry and continues to lead the explosive growth in the market. But the company isn't resting on its laurels: Sola Salon Studios announces the opening of their 500th location in The Crossings at Godley Station in Pooler, Georgia, and Sola is proud to be the business home to more than 15,000 entrepreneurial beauty professionals.
RELATED: The 2020 Faces of Sola Honorees Announced
When Sola launched its business model, the plan was to give beauty pros the tools they needed to build an independent career and business they'd love while providing beautiful, high-end studios where they could experience the freedom and benefits of salon ownership. This concept has proven to be a huge success and helped transform the beauty industry as a whole. In fact, according to the Professional Beauty Association, independent beauty professionals now make up more than 50 percent of the industry—a significant increase from just five years ago.
"Two innovative entrepreneurs founded Sola Salon Studios with the purpose of supporting entrepreneurs in the professional beauty industry," says Christina Russell, CEO, Sola Salon Studios. "We are excited to celebrate our 500th location and equally honored to announce we now have 15,000 beauty professionals owning and operating their own salons at Sola. We continue to be inspired by the successes and milestones of each and every sole proprietor and we are committed to continuing to support our growing community throughout the United States and worldwide in the years to come."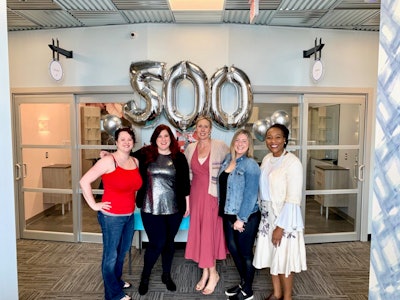 From the beginning, Sola Salon Studios took the fear and guesswork out of launching a salon business by providing a comprehensive start-up support and programs that simplified the entrepreneurial process—answering questions about everything from registering an LLC to setting up a Sola webpage. Additional Sola-only benefits continued to be added over the years and now include live and digital education programs, business and marketing support and access to the proprietary SolaPro and SolaGenius apps designed to help Sola owners supercharge their salon business. 
RELATED: Sola Salon Studios Introduces BookNow by SolaGenius 
"When my business partner, Dave Donahower, and I started developing Sola Salons in 2013, there were only 93 locations," says Heather Safrit, co-owner of the Sola Salon Studios location 500. "To be the owners of Sola's 500th location is incredibly exciting, from both a brand perspective and on a personal level. It is an amazing feeling to know we have been part of helping almost 15,000 beauty professionals nationwide become entrepreneurs and have opportunity to experience the pride and freedom of business ownership."
Sola Salon Studios' rapid growth is the result of an innovative business model combined with a strong spirit of entrepreneurship and independence in the professional beauty industry, celebrated by those seeking more freedom and control of their environments, schedules and artistic choices. In addition to the 500 U.S. locations, Sola has also opened in Canada and Brazil with more locations to come. Visit www.solasalonstudios.com for more information.