Look out, barrettes: the headband is poised to take your crown. 
Ready to give herculean, rhinestone-bedecked barrettes a run for their money as the top-ranking accessory of the season, headbands flexed their might in increasingly outsize iterations. At Balmain, hair lead Sam McKnight hardened simple ponytails with massive chain link bands, creating his version of "punk princesses." L'Oréal Professionnel hair lead Tina Outen adorned pates with ultrathick crocheted headbands that swallowed models' ears whole at the Bora Aksu show. Flowers—an oft- tapped adornment for hair lead Odile Gilbert at the Rodarte show—sprouted beautifully atop models' hair, but didn't stop their growth at the crown; they, along with sprigs of beads, cascaded onto shoulders. Headbands even synced up with jewelry: Mammoth pearls punctuated a band-and-necklace duo at Dolce & Gabbana, while at Area, a multistring rhinestone headband mirrored an equally bling-y choker. With size on its side, the headband proved it's anything but girlish—and as good an ally for IG feeds as any barrette.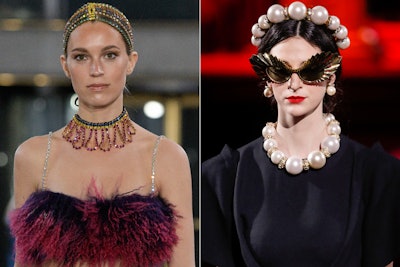 [Images: Courtesy of Sultra Beauty; Getty Images]
This story first appeared in the February issue of Beauty Launchpad. To receive the magazine, click here to subscribe.