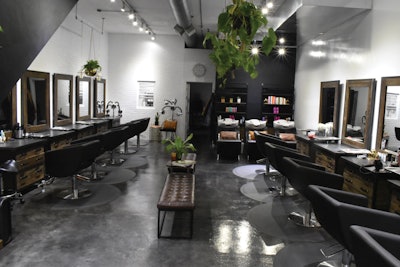 Community and creativity buzz at Rebecca Taylor's new social salon.
Inside Story
Having already owned a salon in Florida prior to her move to West Hollywood, California, colorist Rebecca Taylor knew her way around opening a brick-and- mortar, multistation space—and one day as she strolled through her WeHo neighborhood, her gut told her to put down salon roots in her new locale. "I had zero plans of opening a salon; I wasn't actively looking for a space—but the opportunity presented itself and, not to be too spiritual, but the universe basically punched me in the face with this opportunity," she laughs. And why shouldn't she seize on kismet? With 645,000-plus followers on Instagram, Taylor's artistic color creations are in hot demand, and as a cofounder of Hairstylist Education Forum, a pros-only private education group on Facebook, she certainly has the eye for selecting and attracting the talent necessary for a thriving salon. That moment led to September 2019, when she opened the doors to Honey Hair Lab, a 10-chair haven named lovingly after the nickname her late grandma and grandpa—both important figures in her life—shared. "There were lots of 'honeys' said in our household," she reminisces. But for Taylor, the name also symbolizes a beehive, bursting with community (teamwork and client care), the bees within (hardworking and integral to beauty) and the honey produced (creative ideation and stellar hair).
Within that hive, community is key: "You're only as strong as the closest people you choose to have around you," Taylor says of what she calls her "small yet diverse" staff. (They even do yoga together!) She recognizes the importance of keeping "creative people" happy, and has worked education events—both indie and branded— into the space (which facilitates approximately 40 to 45 attendees comfortably), offering staff free attendance to almost all classes. When considering Honey Hair Lab's prospective clients, Taylor knew her chosen spot would deliver them in droves: Situated beside a hip restaurant, the West Hollywood location plays host to constant foot traffic from residents and workers alike (the Buzzfeed, OWN and Showtime offices sit right across the street).
As for the space, which Taylor conceded was a total gut renovation, she outfitted it with the creature comforts that invite community in: loads of plants hanging from the ceiling and perched in the waiting area, burning Palo Santo-scented candles, and cozy woven pillows and throws in natural hues. Shiny poured concrete floors, rustic wood workstations, and cushy styling seats and reclining shampoo chairs from Minerva Beauty blend modernism with craftsmanship. And, reflecting the vibrancy of Taylor herself, Honey Hair Lab's bathroom, bathed in flamingo pink and boasting an equally vivid chandelier, gives off what Taylor calls a "1960s Miami vibe." All in all, Honey Hair Lab is a place where the hive can thrive.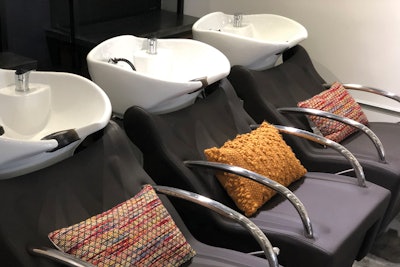 What's Unique
Snap Happy: Knowing the need for quality photos of Honey Hair Lab's work, Taylor installed a professional photo lab—all the better for posting images in real time to Instagram.
Social Must: As a social media maven, Taylor utilized Instagram throughout the salon's development to drum up excitement, and will continue to build community through the platform—especially for her staff. "I'm not only sharing events, class info and promotions through @honeyhairlab, but also the accomplishments of our stylists as well as their direct contact information, work pics and more," she says.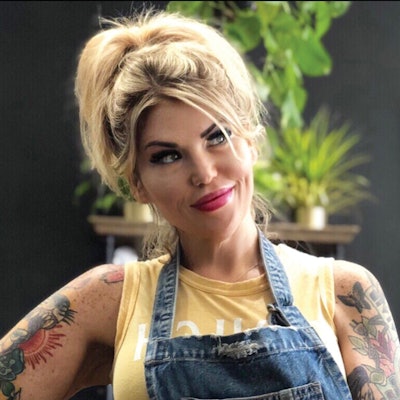 Retail Hair Lines: Sexy Hair, Redken
Color Lines: Redken, Trillion Tones
Refreshments: Wine, coffee
Popular Services: Creative color, blonding, balayage, corrective color, extensions. "What we do, we do very well," Taylor says.
[Images: Courtesy of Honey Hair Lab]