Winter has arrived! From faded pastels and silvers to cool brunettes and white blondes, stylist Ara Ko's feed is a one-stop shop for all of your color inspo needs as the seasons chill out. Ko is a wiz with a paintbrush, and we guarantee you'll be tapping the "save" tab on her colorful posts. Her top color tip? "I prefer to do a full bleach-and-tone look over something more dimensional," she says. "I feel like it makes more of an impact and is a little more edgy because the colors look brighter and have more of a pop."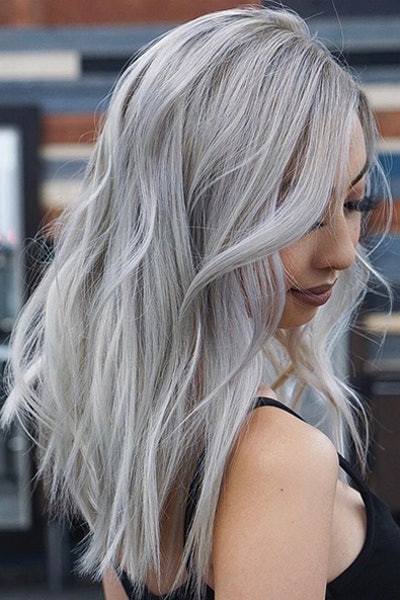 Ara Ko shares how to achieve this silver transformation.
RELATED: Rising Star - Hairstylist Trendafilka Kirova
Lighten regrowth (regrowth should be about 1-inch long) with Schwarzkopf Professional BLONDME Bond Enforcing Premium Lightener 9+ with half 20-vol. developer and half 7-vol. developer (1:1.5 ratio).

Process for 30 to 45 minutes.

Rinse with shampoo and conditioner.

Once hair is at a Level 9 or 10, tone with @Guy_Tang #MyDentity Demi-Permanent 6SS + 8SS on the roots and 8SS + 10SS on the ends with b3 Brazilian Bond Builder added to the formulas.

Process for 25 minutes.

Rinse hair with conditioner only.

Blow-dry and style with a 1 -inch curling iron. Finish with Moroccanoil Dry Texture Spray and @Guy_Tang #MyDentity #MyStardust Spray.
"Silver is is really on trend, and this particular client didn't want any warmth in her color," says Ara Ko. "Also, ashier tones happen to look better with her particular skin color, so we opted for a smoky look with a shadow root to help add depth."
RELATED: Rising Star - Hairstylist Michael Gray
Who: Ara Ko
# of Followers: 21.8K
Location: Kut Haus Salon in La Verne, California
[Images: Courtesy of Ara Ko; Instagram]
This story first appeared in the December issue of Beauty Launchpad. To receive the magazine, click here to subscribe.