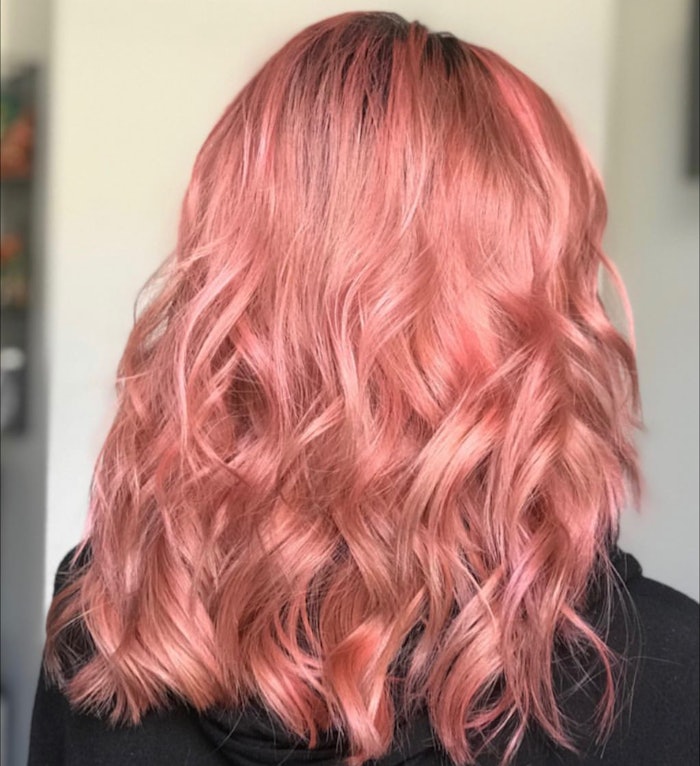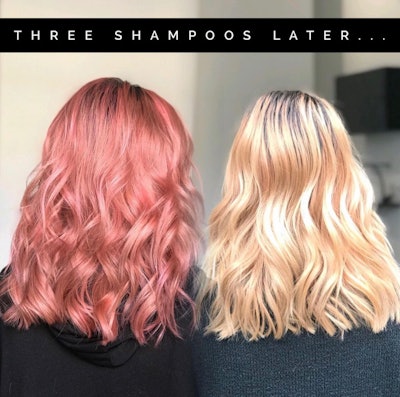 While we often preach the dangers of using discount and drugstore beauty products, very few of us actually put the money where our mouths are. Well, that's just what Laurel Guaderrama (@looksbylaurel) did recently when she decided to risk life and locks to demonstrate just how damaging drugstore shampoos can be—especially to freshly colored hair. In an Instagram post she describes how she went from having gorgeous, freshly colored pink hair to a faded out mess after only three washes. We reached out to her to get more info on just what went down and how you can help your clients' hair avoid the same grizzly fate—without any danger on your end. 
Tell us about the drugstore shampoo experiment. What made you decide to try it out for yourself? How did you decide on Suave?
I felt like I was constantly telling clients not to use drugstore brands without having any personal experience with them lately. The last time I used a hair product from Target was nearly 10 years ago. I wanted to be able to say, "Hey, look, I tried it and I get it—but it's ruining your hair. Let me talk about my experience." I honestly went into the store the way most consumers do without a recommendation. I picked out what was inexpensive and smelled good. Suave Professionals caught my eye because of the word "Professionals." It had to be better, right?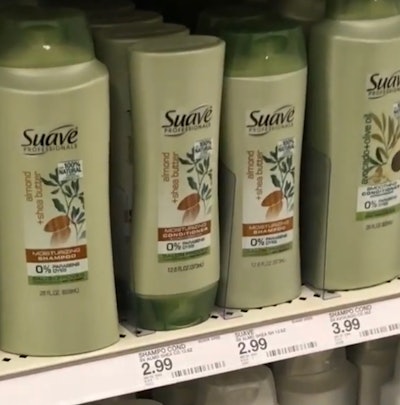 What were the conditions of the experiment? Did you style your hair as usual? Did you use any other products, professional or otherwise? How long did you go in between washes? Was this the normal amount of time in between washes for you?
I washed my hair as usual, once a week. So even though it was only three washes, it lasted me three weeks. I styled as usual, did everything the same. I even continued using my regular conditioner. I used Olaplex No 5 during this because I knew I'd be needing some extra TLC in my hair. The only thing I switched was the shampoo itself. 
What was your initial reaction after the first wash? How did your hair feel?
To be honest, my hair felt smooth in the water and right after the shower. I know that cheaper products coat the hair instead of actually nourish it. I knew what was happening, but it was enlightening to understand exactly why our clients think these products are good for their hair. It felt fine initially, but I knew what was coming. 
It looks as though all the color was gone after only three washes. Would you say this is accurate? And how was the condition of your hair at this point?
There was only a hint of pink at the roots in the harder-to-reach spots (at my nape and around my occipital), but other than that the color was gone. I had a brassy, untoned, drab color that was only shiny when my hair was super greasy.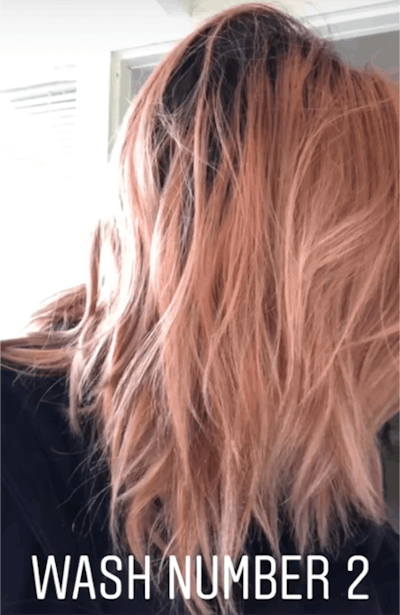 Typically, what products do you use to maintain your hair?
I normally use Olaplex or Unite shampoos and conditioners, depending on my mood. In my shower I have the Olaplex line as well as Unite 7seconds and Lazer Straight. I also use Unite Elevate Mousse, 7seconds Detangling Spray, and Olaplex No6 and No7. 
On average, how long does it take for your hair color to fade?
That rose gold shade should have lasted at least six weeks on my hair. 
How fresh was your hair color when you began this experiment?
I colored my hair for this experiment specifically so the color was fresh. 
You mentioned you had to cut your hair, can you say how much and why? When did you color your hair again?
I cut my hair into a faux shag after this. The damage was mostly in my layers where everything was dry and snapping off. I did a few Olaplex treatments trying to fix it, but in the end I cut off about an inch on the ends and a few inches within all the layers. My hair felt stiff and dry, like straw. I left the color alone for about a month so I could just focus on treatments.
Many people turn to drugstore-bought hair products as a cost-saving measure. What would your advice be for them? If price is a concern, what can people do to minimize the amount of money they're spending?
One thing that really stood out to me was this: Because Suave is so watered down to keep the price low, I had to use much more product to wash my hair than I normally use. Professional shampoos are very concentrated, so if you're using them correctly they should last you longer than the drugstore bottles. That one bottle was halfway gone when I was done with my experiment. So if you think about it, while I "saved" $25 on that $2.99 bottle of Suave, I would've had to spend over $100 to redo the color before the bottle of shampoo was even finished. However, if I had spent an extra $25 on the right shampoo, my color would have lasted twice as long, extending the time in between color refresh visits. In the end by using drugstore shampoo you're not saving money, you're literally washing your money down the drain.
How do you recommend stylists inform and educate their clients on the benefits of truly professional products? (Other than showing them this article, of course!)
Discuss products in your consultation. Every single appointment should begin with a consultation. Every. Single. One. If your client wants a change, even a slight change, discuss the maintenance as well as home care for their new look. If someone wants to start lightening their hair, educate them on how they'll need to use purple shampoo once a week to combat brass as well as a hair mask once a week to combat the effects of lightener. Vivid color clients need dry shampoo and the BEST color safe shampoo out there. Someone who wants a cut with more volume will need a product to lift their roots as well as a round brush. Then teach them how to use these things. Let them hold the products as you're putting them in their hair. Make them look at the actual products and hold them and feel them in their hands. Educate your clients on how they can't have what they want without these products. You're not selling just to sell—you're giving them the products and knowledge to achieve what they want. And when they're able to do it themselves, they'll trust you forever. But if they truly can't afford the products, let them know that they can't truly afford what they're asking for. I turn clients away if they don't have the budget to maintain what they're asking for, I just don't want to set anyone up for disappointment or unrealistic expectations because at the end of the day that falls on me. It's our job to educate the clients, we're the professionals after all.