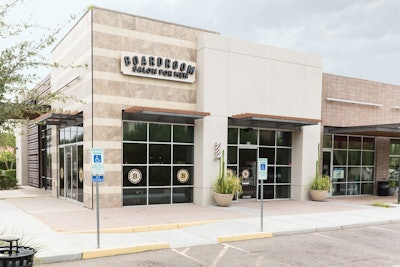 You never know where your next business idea will come from. For Bruce and Heather Schultz, an American Way in-flight magazine article focused on men's grooming piqued their interest. At the time, male-centric luxury salons simply didn't exist; after reading the piece, "we foresaw significant demand for an upscale grooming experience," says Bruce. The entrepreneurial duo immediately seized upon the idea, laying the groundwork for what eventually turned into an empire, but took only eight short months to realize with the opening of the first Boardroom Salon for Men in Southlake, Texas, in 2004. A decade and a half later, and the Schultz's newest Boardroom opened its doors in Scottsdale, Arizona, marking their 36th luxury men's salon.
At 1,892 square feet, the space boasts 12 chairs plus one barber chair in a separate room for guests requesting privacy. All of the hallmarks of a men's club can be found: dark wood paneling, beyond-plush leather chairs in the reception area, oversized classic Collins barber chairs with lacquered wood accents, a chessboard, a centrally located pool table for sharks who like to show off their skills, and beer—should their guests want to unwind with some frothy goodness. "We wanted to send men back to an earlier, elegant era," says Bruce of the 1920s country club-inspired design.
RELATED: In the Shop - Southpaw, Silverlake, California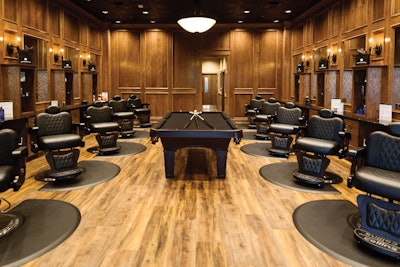 Though Boardroom welcomes walk-ins and provides à la carte services, guests can truly indulge in all that Boardroom has to offer with the salon's three levels of unlimited memberships: three, six or 12 months. "We introduced our unlimited memberships in 2004 to make it easier for our clients to stay looking great and feeling confident all the time, and to allow them to feel like owners as they pay once and can visit as often as they want," Bruce explains. Memberships also include incentives, such as product discounts and two to six complimentary signature "Benchmark" haircuts—complete with a precision neck shave and pressure-point facial massage—to give as gifts. The best part: Memberships are honored at all 36 locations. "This was important to [us] to cater to our business clients who travel regularly for work," says Bruce. "We want our clients to know that Boardroom is here to keep them looking great and feeling confident anytime and anywhere." And soon they'll have even more options: The husband and wife duo plan to open six to eight more Boardrooms in the greater Phoenix area over the next five years.
RELATED: In the Shop - Barrelli Barber, Charleston, South Carolina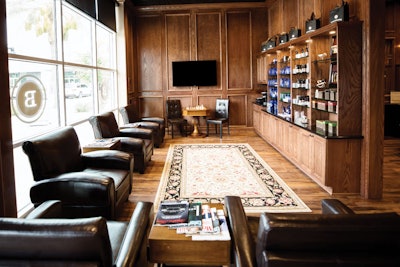 Shop Extras
Lines carried: Bumble and bumble, Jack Black, Beardbrand, St. James of London.
Barber Ed: In 2017, Boardroom Salon opened Brighton Barber Institute in Texas, offering barber curriculum and job placement assistance to help develop the industry's top future talent.
Staff support: Boardroom staff members receive competitive salaries, bonuses and benefits packages—including medical, dental, vision, PTO, and 401(k)—as well as relocation opportunities.
Charitable giving: Nationally, Boardroom teams have contributed more than $400,000 in complimentary services to their local charities.
[Images: Courtesy of Stephanie Studer]