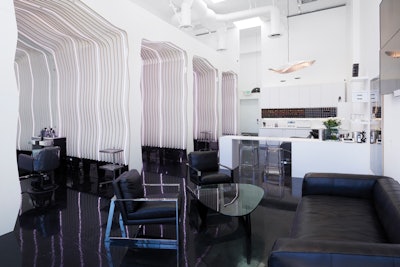 Starring by Ted Gibson elevates the salon experience with tech components galore.
Inside Story
After the success of his eponymous salons in Manhattan, New York, celebrity stylist Ted Gibson itched for something more. at "something more" existed in Los Angeles, an area "ripe for entrepreneurs and creatives," says Jason Backe, co-owner of STARRING By Ted Gibson, the married duo's new salon digs on the West Coast. For Gibson, the cross- country move meant a tighter tie to Los Angeles influencers; for Backe, the city's energy and spirit surrounding start-ups sealed the deal. But rather than set up shop in the expected Beverly Hills or West Hollywood locales where high-end salons saturate the market, they built in the La Brea District, an up-and-coming real estate hotbed thanks to a nearby Los Angeles Metro train stop that's in the works. "The area has super-cool shops and restaurants, and designers always do pop-ups here, but it had very little in terms of beauty—so here we are," Gibson thrills.
However, being first doesn't mean resting on your past successes. Instead, the duo came armed with a totally new idea: the world's first "smart" salon that begets an entirely immersive, experiential experience. is is where the styling stations, called "clouds," come into play. Pure white and cocoon-like, each cloud measures 13-feet high, 9-feet deep and 81⁄2-feet wide and includes 27 LED-lined "fins" that Gibson says are "angulated to emulate hair blowing in the wind." e visual feast for the eyes, designed by architect Francisco Gonzalez-Pulido of FGP Atelier, isn't simply for looks. "The LED strips envelop you in light with no shadows," Gibson notes, and can be changed to reflect different lighting scenarios (think: "Indoors," "Everyday Sunshine" and color for IG moments) so clients can see an accurate vision of their haircolor across a spectrum of situations. Add to that, every cloud features its own Amazon Echo voice device, giving power to the clients so they can ask Alexa to "change their cloud's lighting to check their haircolor or enhance their mood," Gibson says, as well as an Amazon Fire HD 10 tablet so clients can stream movies, play games or shop online. "We were inspired by the first-class cabins on international flights in that everything is at your fingertips," says Backe of the clouds' design.
As for shopping online, the pair also optimized this to their advantage: STARRING By Ted Gibson utilizes the Amazon Local Associates Program, whereby the salon's stylists can curate their own "storefront" on Amazon that features items they love and recommend, and can be shipped from Amazon direct to the client. When the time comes for retail recommendations during a service, stylists can point their clients to their Amazon storefront on the clouds' tablets— with every sale earning stylists a commission from Amazon. Or, clients can scan display products featuring Amazon "SmileCodes" QR codes using the Amazon App, and then shop online later (and choose to opt in for auto- renewal purchasing) from the comfort of their homes. "It's a no-pressure approach to selling," explains Backe. Even passersby can partake in the shopping experience: Five large double-sided display boxes house Gibson- and Backe-curated products with SmileCodes to allow both people in the salon and on the street to snap and purchase.
The benefits to the salon don't end at convenient retailing—overhead is significantly reduced, too. is way of doing business disrupts the traditional blueprint for salons—and Gibson and Backe are OK with that. "We're elevating, streamlining and simplifying salon operations," relates Gibson. "We've carved a new path."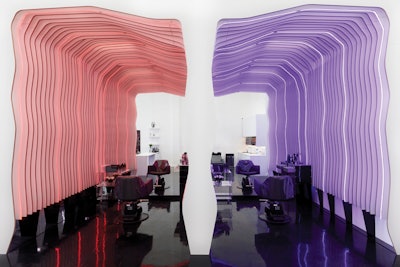 What's Unique
Cash– and Front Desk-Free: Rather than check out at a front desk, clients can book their next appointments and settle their service— completely cashless—with their hairdresser using tablets found at each styling station.
Cloud Coverage: The individual clouds offer a "semi- private and customizable styling and coloring experience" complete with variable lighting situations that clients can operate verbally via Amazon Alexa.
Serious Smarts: Everything in the salon is "smart," from the Roomba that cleans the floor to the Sonos surround-sound system.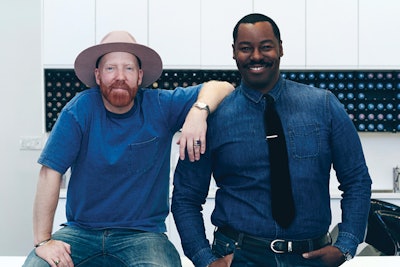 Typical Clients: "We're going after two demographics: 20-somethings obsessed with the perfect selfie moment for their IG feed who always seek out what's cool and new, and women ages 35 to 55 who are inspired by what the 20-somethings post," says Gibson.
Retail Line: STARRING By Ted Gibson
Color Line: Goldwell
Refreshments: Coffee, tea, still and sparkling water, Coca-Cola, Coke Zero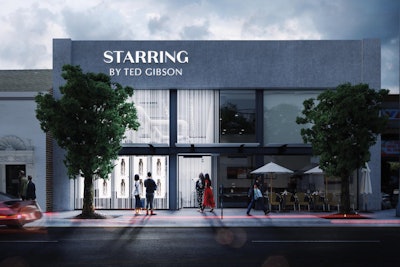 [Images: Courtesy of STARRING by Ted Gibson; Brad Cohen; Salon Rendering]