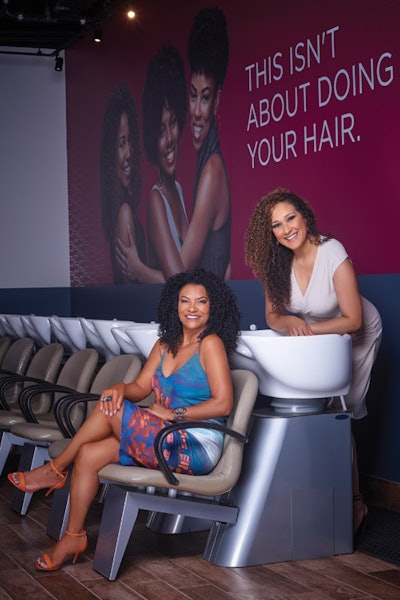 A successful Brazilian curl brand makes its first foray into the United States with a salon in coil capital Harlem, NYC.
Inside Story
Realized 25 years ago in Brazil due to a curly haircare drought, Beleza Natural began as a product line. The two founders, Leila Velez and Heloisa "Zica" Assis, both struggled with their own coils, and made it their mission to bring quality services and products to curly and kinky- haired clients. After their first trip stateside 16 years ago, Velez and Assis dreamt of bringing their expertise to the U.S.—specifically Harlem, where ringlets rule. "New York City, and Harlem especially, is a melting pot of cultures and ethnicities with all kinds of different curls—that's what immediately drew our attention and showed how many similarities we share, in terms of how diverse our people are both here and in Brazil," the duo says. Noticing that Harlem's curly population had the demand—but not the supply—for quality, affordable professional services and products, Velez and Assis opened Beleza Natural Institute, a 6,000-square-foot curly hair sanctuary, in September 2018. "Harlem has been confirmed as not only a fantastic place to find our target audience, but also as a cultural mecca filled with beauty trendsetters," they thrill. Drawing from their 24 established Brazilian salons, Velez and Assis gave the Harlem location the same colorful red, navy and pink color scheme with ultra-poppy orange chairs. The sleek, curved lines of the front desk and retail displays plus a glossy concrete floor lend a modern feel—yet one decor feature stands apart. "We kept the traditional exposed New York City brick walls because we wanted to keep an element close to the local culture," they share. Another standout: Larger-than-life images of real clients with curly hair gaze upon salon visitors. "All pictures on the packages, displays and ads are made with real clients instead of standard models in order to show real women with real results," they share. " e pictures on the wall are meant to inspire."
RELATED: Tips, Techniques and Products for Caring for Curly Hair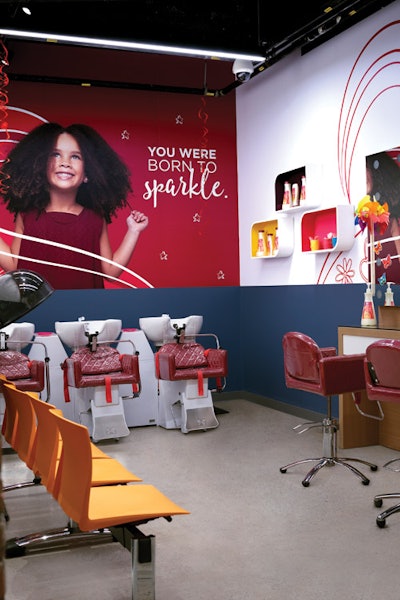 Since curls are top of mind, visitors can partake in more than 30 different types of haircuts designed especially for coils; three curl-shaping services; and hairstyling, like finger styles or twists. Four different deep treatments satisfy a host of coil needs. Free consultations, where curl experts do a thorough analysis, guarantee client satisfaction. "We specialize in treating and increasing the beauty of curls through keen observation, active listening, tireless tests, and the knowledge and creativity of our team—most of whom are curly women as well, so they understand our clients," they reason. In fact, Velez and Assis pride their company on the staff's deep knowledge of kinks. "Every employee we hire has to spend at least one month of additional training to learn our unique techniques specialized for curly hair. is way we can confirm the quality we serve in Harlem—or any place in the world," they assert.
As the zeitgeist trends more and more toward embracing natural texture, the duo has made it their mission to inspire pride in women when they see, touch and style their spirals. "We want clients to learn how amazing their curls can look," they say.
RELATED: Salon of the Month - Artistex Salon & Spa, Westport, Connecticut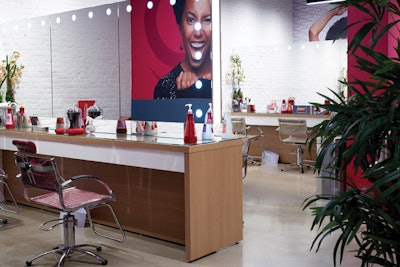 What's Unique
Catwalk Curls: A mini runway situated near the front desk encourages clients to strut their new look right before checkout. "They can take pictures with our ring light, too," the duo says—a smart tactic for sharing via social media.
Curl Analysis: Consultations are conducted in private rooms, where curls can be fully analyzed before services are prescribed.
Community Outreach: Staff volunteer at local Harlem events and are often hired from within the community. "We want to help Harlem prosper," the duo relays.
Retail Lines: Beleza Natural Kits, including Loose Curls, Tight Curls, Kinky Curls, Wavy Curls, Protein Punch, and Vitamin Pro.
Refreshments: Coffee and tea.
Plus 
Number of Chairs: 13.
Most Popular Services: The Beleza Natural Deep Treatments, which vary from nutrition to moisture infusion to scalp cleansing to hot oil.
This story first appeared in the June issue of Beauty Launchpad magazine. To receive the magazine, click here to subscribe.
[Images: Courtesy of Beleza Natural Institute]