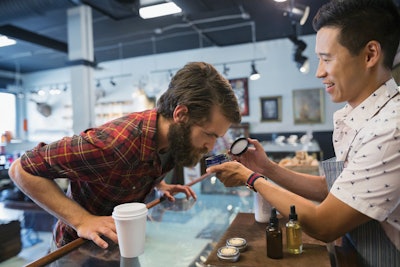 Between sales-shy stylists and clients who cling to their same ol' product routines, humans prove stubborn creatures of habit, even in the salon setting. But a successful sampling program can shake up those dynamics. "I can't stress enough how important sampling is," asserts Kelly Ehlers, founder of Hello Salon Pro. "You can open a new world of possibilities, developing affinities to products that someone never would have known before."
Ehlers admits that hair-oriented sampling creates a "slower burn" of sales boosts than instant-gratification products like makeup, as clients may need to use a hair product repeatedly to appreciate its effects. Still, according to Jennifer Weiderman, VP of marketing for Sexy Hair, data shows that distributing samples does lift long-term sales. "Once customers try and like a product (especially if it was used during their service), they're more willing to buy the full-size version," Weiderman notes. "It's also a great way to reward clients. Everyone likes to get something for free that's recommended by her stylist."
RELATED: Free Launch Giveaway - March 2019
Even better, sampling encourages long-term loyalty while cementing a personal connection with clients—often rare in today's interaction-averse world. "Starting a sampling program opens the door to conversations with your clients about the latest and greatest products," Ehlers explains. "Showing this dedication and care can mean the difference between gaining a lifelong customer or a one-off appointment."
Sampling Strategies
How can you run a successful sampling program? Follow these expert tips:
Know your stuff. When introducing clients to new products, it's all about educating yourself (and them). "Staying in tune with the latest trends and product innovations can make a real difference in your success," Kelly Ehlers notes. "Passing on that info to your clients shows that you really care and are knowledgeable about the work you do."
RELATED: Stylist Gina Bianca's Tips for Avoiding Industry and Salon Burnout
Tap your contacts. Samples can be purchased at pro beauty stores, and therefore factored into a salon's advertising budget. But, Jennifer Weiderman adds, vendor reps may also occasionally distribute them to encourage trial of new products. Ask around!
Use parting gifts. Weiderman advocates this sampling approach: Use the full-size product on clients during the service (bonus points for talking it up during use!); then give out the mini as a parting gift at the end of the appointment. You can even follow up with a short email survey to get feedback on their product experience.
This story first appeared in the March issue of Beauty Launchpad magazine. To receive the magazine, click here to subscribe.
[Images: Getty Images]