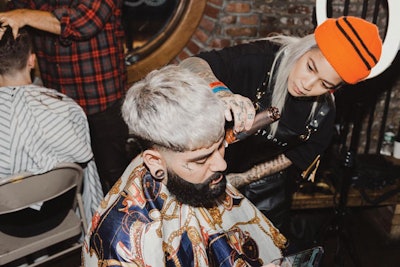 Recently some of the industry's top barbers took to the stage in New York City's Brooklyn Bowl in an evening-long education/ entertainment session, otherwise known as The Iconic Groomer. The show is the brainchild of hairdresser and humanitarian Mark Bustos and celebrity hairdresser Richard Mannah, both of whom share a passion to unite the barbering and styling worlds. "The three words we are using are 'education, inspiration and community,' with an emphasis on the letters U-N-I-T-Y," said Mannah. "We want our mission to provide a platform where we can unite education and ideas at a single event."
BaBylissPRO educator Sofie Pok, award-winning barber and photographer Kevin Luchmun, Victory Brand founder Matty Conrad, American Crew artistic director Paul Wilson and Bustos took to the stage to share their knowledge of both the barbering and hairdressing worlds. "There are celebrities like Odell Beckham Jr., who had yellow hair for months until his team decided to find a good colorist," said Bustos, underscoring the importance for ongoing education as he introduced Revlon Professional to the stage.
RELATED: Top Barbers Name 2019's Ones to Watch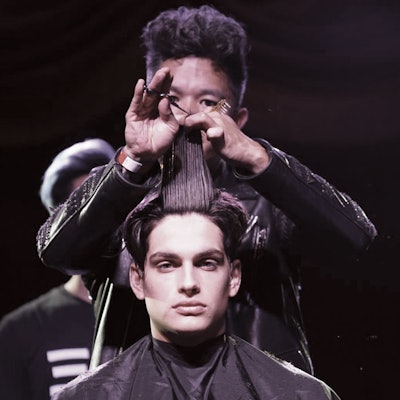 In an effort to bring good will, The Iconic Groomer is donating a portion of its proceeds to benefit Bustos' charity #BeAwesomeToSomebody. Bustos and his team provide haircuts to the homeless and hurting communities around the world. The Iconic Groomer truly created an educational experience for the men's grooming industry while building a sense of community for networking and growth among barbers and hairstylists alike. 
—by Alejandra Acuna
This story first appeared in the Winter issue of MAN magazine. To receive the magazine, click here to subscribe.
[Images: The Iconic Groomer Show]