Rancho Santa Fe, an affluent neighborhood in San Diego, seems an unlikely spot for Salon Draven—which looks like it belongs on the set of a Tim Burton film. The 1,000-square-foot space has been open since July 2017, and what's most striking is the complete lack of color: Wall-to-wall and floor-to-ceiling, everything is painted black. Ditto for the furniture— each piece was bought or custom-made to reflect owner Andrea Draven's penchant for gothic design. "First-time clients are often taken aback," she laughs. "But I worked hard to cultivate a lighthearted vibe, so the space doesn't have a feeling of darkness."
Accents like gold light fixtures and a Swarovski crystal chandelier infuse pops of light. Playful elements likewise lend notes of whimsy. A giant Victorian mirror behind the shampoo bowls is affectionately known by all as "Mirror, mirror on the wall." The bathroom is black with noir sinks and an ebony toilet, while oversize baroque frames show paintings of historic figures with the heads of cats—Marie Antoinette sports a giant pink bow between her ears. "I was influenced by fashion icons like Thierry Mugler, Alexander McQueen and Versace," shares Draven, a New York City native who boasts a fashion design degree from the (Fashion Institute of Design & Merchandising) in Los Angeles.
RELATED: Halloween Makeup Inspired by the Fall 2018 Catwalks
"I had a vision in my head for how my salon should look— and I stuck with it," says Draven.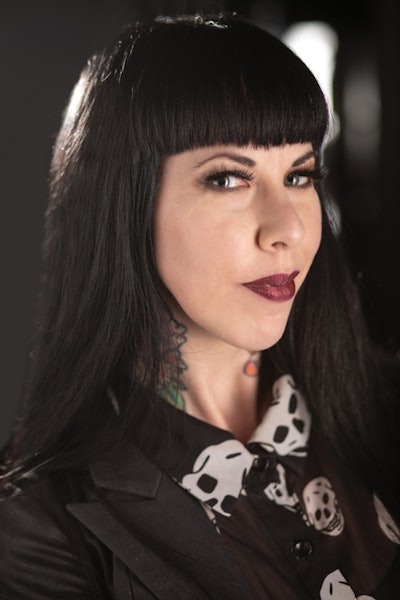 What's Unique
One-Stop Shop: Along with cuts and color, Draven does eyelash extensions and nail services from a mobile station in the back of the salon.
RELATED: Nikki Lee Dishes on Her Top Shades for Actress Emma Roberts
Bewitching Ambience: The all-black "Halloween tree" is decorated with vintage ornaments and hand-beaded couch pillows that look like spider webs [on display during October].
Color Lines: OYA, Pravana, Redken, TIGI.
Retail Lines: Virgo de Novo, a local and family operated line of vegetable-based products.
Refreshments: Specialty wine and tea, cupcakes and macarons, all served on fine bone china.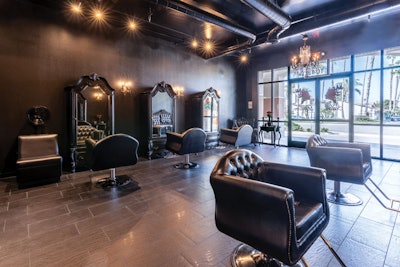 [Images: Courtesy of Steven Sandler]