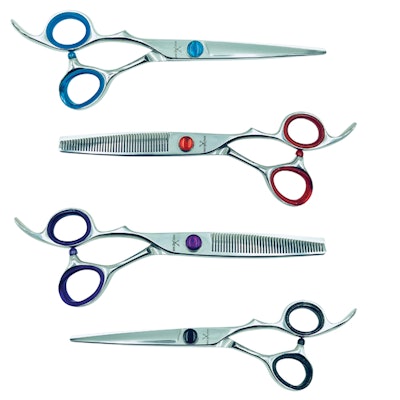 Rock Paper Shears allows stylists and barbers to rent high-end shears beginning at only $11 a month. You're a master at clipper-work. You can fade like no one's business. But long hair cutting? Maybe it isn't your strongest suit. And if you're reluctant to make the $700-$1,000 investment in purchasing quality shears, then how can you become better at this side of your craft?
RELATED: Essential Men's Grooming Tips for Summer
Enter Rock Paper Shears, a new subscription service that rents out scissors. Founder Pat Lazure started the company only earlier this year, but now has subscribers in all 50 states. "Rock Paper Shears allows a person to try a variety of shears without the upfront cost," he explains. Members simply select the shear they like, determine if they want to keep them for four or six months, then enjoy them till it's time to send them back in a prepaid package. And even better than the convenience is the cost—subscriptions start at just $11 a month.
"We've developed and work with factories directly to control quality and reduce cost," states Lazure. "That's how we're able to have such low monthly subscription rates."
RELATED: Sam Villa Guest Blog - The Barbering Renaissance
Lazure prides himself on his exceptional customer service. (And he isn't bragging. A quick glance at the Rock Paper Shears Facebook page confirms dozens of reviews praising the customer service.) Before members return their shears, they receive a phone call to confirm they haven't moved and to find out which shear they'd like to try next. Each shear is personalized with colored finger inserts and the subscriber also receives a shear case that they get to keep no matter what. "You can cancel at any time," says Lazure. "But it's great to never have to worry about sharpening again. Many people have said they don't feel the need to buy another shear again." For more info, visit rockpapershears.com.
[Image: Courtesy of Rock Paper Shears]