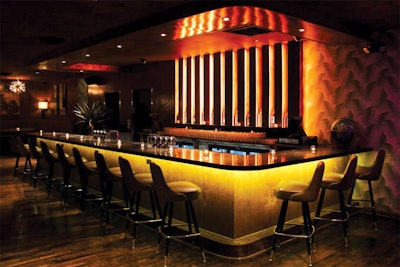 Earlier this year, Blind Barber opened its sixth location in the gangster-turned- hipster area of Los Angeles known as Highland Park. Partners Jeff Laub, Josh Boyd, Adam Kirschenbaum and Matt Breen certainly have found a recipe that works—quality barbershop in front, which offers complimentary beverages with every service, and speakeasy in back.
RELATED: Straight Up - Martial Vivot Pour Hommes, New York, NY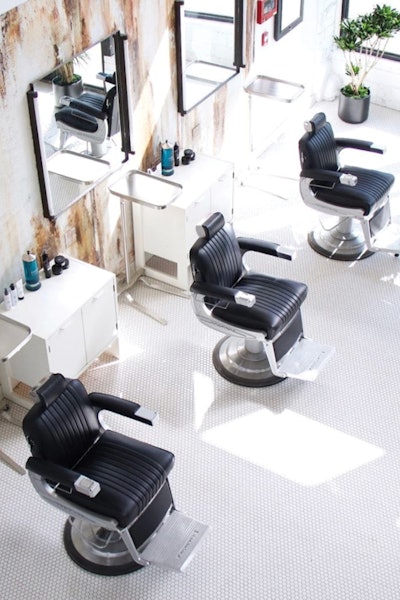 The decor speaks to decadence and a mélange of style—an Art Deco-style bar sits against '70s-chic banana palm wallpaper, while a separate nook is decorated with mid-century modern furniture. The barbershop itself mixes old and new, with a clean, white floor contrasting with a reclaimed wood wall. The bar and restaurant are open for business at 6 p.m. every day except Sunday. Chef Ted Hirsh serves up the chain's famous selection of grilled cheese sandwiches as well as a range of tacos and other light fare. The space offers a wide variety of drinks, but two drinks in particular seem to be fan favorites. The Hot Heather contains a refreshing mix of Milagro silver tequila with grapefruit, pineapple and ginger, while the Smoke & Dagger combines whiskey with jalapeño-infused Cointreau. Of course, they also offer a stiff whiskey served over ice, should refined luxury be your preference.
RELATED: Portland Shave Shop Revels in Classic Barbering With a Focus on Forward Thinking Cuts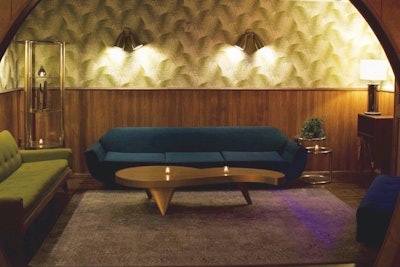 [Images: Courtesy of The Blind Barber]