Vibrant shades run the gamut in the latest collection from Schwarzkopf Professional's Rossa Jurenas.
She's truly a rainbow! For Rossa Jurenas' Color Eclipse compilation, the Schwarzkopf Professional North American color director sought to explore the entire color spectrum while maintaining an overall clean aesthetic. "The white background allows the eye to focus on the hair," explains Jurenas, "and my color choices were kept bold and graphic." The result? Loud color that doesn't scream, but does indeed beckon its viewers to take a closer look.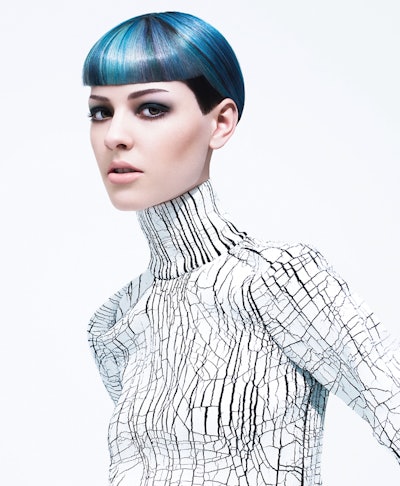 Play it Cool: "I really wanted to showcase this model's skin tone and eye color," says Rossa Jurenas. "She was initially blonde, and I decided to play with a rich violet base while creating a pivotal pattern of green, copper, blue and red."
RELATED: César DeLeön Ramirêz Creates Two Whimsical Hairstyles at the Michael Costello Show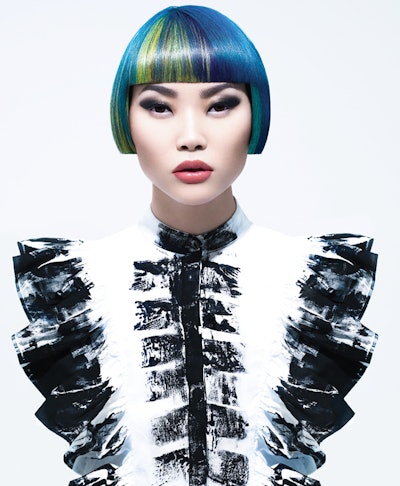 Shape of Things: For this look, Jurenas used triangular shapes for color placement, alternating tones of blue with accents of yellow, green and violet.
VIDEO: Anna Cantu Takes us Behind the Scenes with Farouk at ABS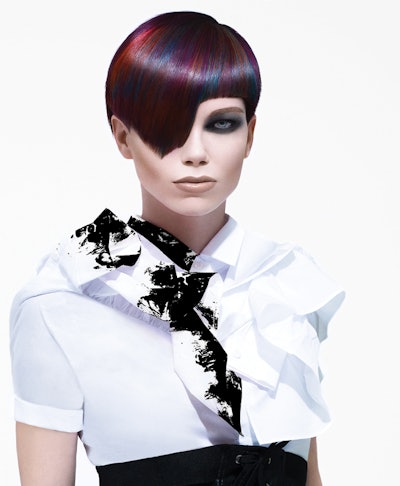 Robust Blend: An amalgamation of copper, red and green creates a bespoke look with unexpected yet complementary tones.
[Image: Hairstyling and color - Rossa Jurenas, photography - Damien Carney, makeup - Aya Kudo, fashion styling - Nikko Kefalas]