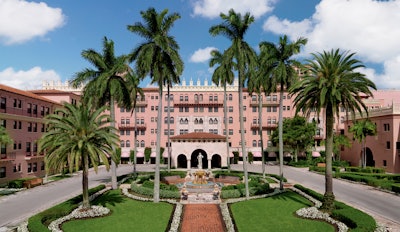 Inspired by the legendary Alhambra Palace in Spain, the impressive 50,000 square foot Waldorf Astoria Spa at the Boca Raton Resort & Club on Florida's Gold Coast is nothing short of regal.  The award-winning (and awe-inspiring) spa design features a combination of grand arches, smooth marble, handcrafted tile, intricate mosaics and indigenous cypress woodwork accompanied by 10,000 square feet of magnificent gardens, making one feel as if they have wandered onto the grounds of an actual royal palace.
With 44 treatment rooms, there is no shortage of space for guests to come and enjoy a wide variety of treatments, ranging from facials and massage to manis and pedis. One of their signature therapies is the Bath Ritual, which I had the opportunity to experience when I stayed at the resort recently for Intercoiffure's Spring Atelier. I opted for this 50-minute treatment in lieu of my routine morning shower—talk about starting the day off on the right foot!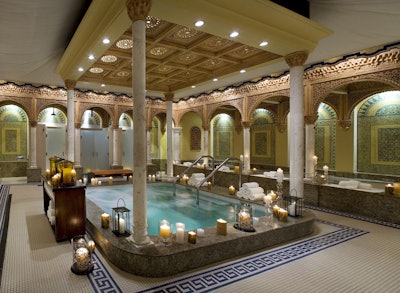 "The Ritual Bath has been an integral part of the spa since its inception in 2001," says Christopher Myers, Spa Operations Manager at Boca Raton Resort & Club. "The service has easily been an iconic and one-of-a-kind experience for the past 15 years. This celebrated treatment includes nine individual mineral baths, deluge plunge pools, Swiss showers, whirlpool, as well as steam, sauna and inhalations rooms."
Despite being in a communal space, my aroma bath felt extremely private. As I lay back in my individual tub, I feasted on fresh tropical sorbet before indulging in a body scrub. Then it was off to the next phase: the Swiss shower, where it felt like I was caught in an exciting rainstorm as water came at me from multiple directions. Afterwards, I lounged in a plunge pool while a stream of water fell on my back, giving me a rhythmic massage that loosened my tight muscles (caused by sitting at a desk).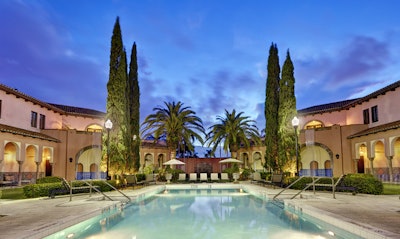 The final leg of the journey took place in the central Jacuzzi area, where I was offered a cool towel and a serving of fresh fruit to cool me off. I felt relaxed, refreshed and ready to head back to my conference. Those who don't have to be anywhere after their treatment have the option to use the spa facilities, which include a private pool, sundeck, wet areas, lounges and a spa café where they can order a bite to eat.
And for guests who really want to take their relaxation to the next level, they can sign up for one of the deluxe spa packages—all of which include a Ritual Bath—accompanied by a series of other treatments, ranging from a Signature Facial to an Artisan Massage and more. That's definitely what I plan to do next time I return here, which will hopefully be very soon.
[Images courtesy of Waldorf Astoria Hotels & Resorts]