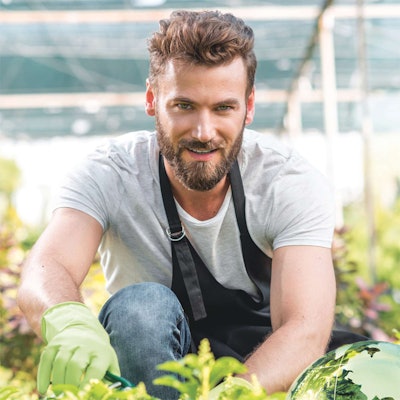 Allegiance to nature and the environment has taken root in the men's grooming market. Are you in?
Concern about the environment is not exclusive to the spa and wellness sectors—the beauty industry as a whole has taken an interest, and that includes the growing corner of the world that is men's grooming. And there's no better time than now to jump on board. "Spring really is a time in which we re-evolve organically, whether we're cleaning our salons, spas and barbershops, or doing something personally for our health," says Jeff Orrell, senior vice president of NEUMA. "Plus we have April and Earth Day, a time to recognize our environment and what we've been able to take great advantage of, for better or worse. Fortunately, we're much more aware of the impact of our actions than ever before."
Indeed, our collective awareness has been raised regarding environmental responsibility, and companies that don't reflect their involvement in some way may find themselves losing business to competitors who have embraced the green movement. How to start? If you want to let clients know that your men's salon or barbershop honors Mother Earth, your best conduits are through products and messaging.
RELATED: Marketing Men's Skincare Services
Products: Greener Options
Whether you've dedicated your business to the use of nature derived products or have yet to explore this arena, there's no denying the public's increasing demand for items whose sourcing and manufacture have had little to no negative impact upon the environment. In a 2015 Cone Communications/Ebiquity Global CSR (Corporate Social Responsibility) study reported by Sustainable Brands, a network of 348,000 sustainable business leaders from around the world, 84 percent of the 10,000 global consumers surveyed reported seeking out "responsible" products whenever possible. Moreover, 81 percent said that a lack of availability was the only reason they did not purchase more of them.
As the agreed-upon trailblazer in bringing the subject of sustainable products into the modern beauty/grooming industry, Aveda, founded in 1978, has spent many years building consumer loyalty around its nature-based lines and high-profile environmental advocacy. Today, the company is well-positioned to meet the growing demand for products that support a commitment to sustainability. "As a large buyer of organic essential oils—more than 90 percent of the essential oils used in Aveda's aromas are certified organic—we have noticed that demand for these sustainably produced materials is increasing," reports Dave Rapaport, vice president, Earth and Community Care for Aveda.
RELATED: Stylists Share Top Men's Styles to Look for in 2017
You might ask, "But isn't that demand mostly in skin, bath and body care, mostly in spas and mostly for women?" Not anymore, says Rapaport. "I have developed products for men for years and have seen now more than ever how aware and conscious they are of their physical appearance. They have finally caught on to what women have known for years: Take care of your skin and you will reap the rewards."
"But they don't want to use just any product," Rapaport continues. "Just like women, they want a product they can trust, with ingredients they recognize and a formula that works for them."
One of the ways we've seen purchase decisions change is in how consumers now examine products before buying. "Horst [Rechelbacher, founder of Aveda] did a great job of pioneering the category, but back then we weren't ingredient gurus," says Orrell. "We weren't label-readers. We'd look at the front panel of a bottle, take the cap off, smell it, put the cap back on, then turn the bottle over to look at the price sticker on the bottom. The last thing on our mind was reading ingredient data."
By the time NEUMA was brought to market in 2010, the public's interest in product ingredient safety and responsibility was well established. "We set out to create a brand that would perform at a professional level but be free of ingredients that were suspected of contributing to human or environmental health problems," Orrell says. "Our product line is cruelty-free, made with vegan formulas and free of a lot of the materials we like to call 'no-nos', such as carcinogens, skin sensitizers and neurotoxins." NEUMA also ruled out glutens, GMOs and synthetic fragrance when creating its formulas. "There's no health benefit or true olfactory experience from synthetic fragrance because our brains can't interpret it," explains Orrell. "Synthetic fragrance can, however, give us headaches, migraines, scalp problems and allergic reactions." 
Can "natural" products really perform as well as others? They can, insist their manufacturers, but it takes ingenuity to coax cleansing, exfoliating, conditioning, healing, managing or styling functions out of a haircare product without relying on long-established standby ingredients—some of which are those so-called "no-nos." The secret is in looking for botanical replacements that, in the correct proportion, produce similar effects. "Whenever possible we look to the environment to help power our high-performing products," says Rapaport. "One of the most important roles that Aveda has played in the beauty industry has been to establish that you can get high-performance products made with naturally derived ingredients. Our scientists continue to have great expertise in identifying naturally occurring botanical compounds that can be functional ingredients in our products."
RELATED: Hair Coloring for Men
Still, it can be a hard sell in the men's market, where natural ingredient-based products may be regarded as too "fl owery" or "weak" to do the job. In the end, the proof is in the pudding, say manufacturers. "I was giving a presentation in Texas, and had to find something that I knew a Texan audience would relate to—because, of course, Texas is typically not the place to talk about 'vegan,' unless you're in Austin," Orrell relates. "So I basically summed up my presentation by saying, 'Look, we found a way to make tofu taste like tenderloin.' I got a very receptive response to that!"
Marketing: Walk the Talk
The average consumer today wants to know—in fact, feels they have a right to know—where businesses stand when it comes to doing the right thing. About 90 percent of global consumers in the above-cited CSR survey reported that they are likely to make decisions about patronizing or boycotting a business based on its level of social responsibility. Consider the win-win benefits when companies donate a portion of product or service sales to a worthwhile cause, as they often do to support breast cancer awareness in the month of October, for example. 
Environmental issues pertain to everyone and, happily, global consumers are beginning to manifest a sense of personal responsibility regarding how their dollars are spent. Websites and apps that detail which businesses are earth-friendly—and which aren't—abound, and it's easy for consumers to check a list on their phone before opening their wallet. The above-cited CSR survey indicates that these consumers are feeling the power, with 72 percent of participants expressing a belief that their purchases "make a moderate-to-significant positive impact on social or environmental issues."
Furthermore, product purchasing decisions are only the tip of the iceberg. Consumers want to know about a business's practices, its priorities and its culture. Ask yourself:
• How does your salon or barbershop handle waste?
• What is your recycling protocol?
• What do you do to conserve water?
• Do you work with vendors who care about these things?
"Salon guests concerned about sustainability are attracted to businesses that are doing their part to care for the world," says Rapaport. "For instance, salons can demonstrate their 'green cred' through things like equipping their shampoo stations with fixtures that use less water while still providing guests with the experience they expect." You may have already made some eco-friendly choices for your business, such as the use of energy-saving lightbulbs and appliances, sustainable materials for your shop's interior or even solar panels. If so, make sure your clients hear about it! (Tell them in person or via the web—save a tree!)
NEUMA encourages its partner salons to share the fact that the haircare company works hard to lower its carbon footprint. "Our bottles start from 100 percent recycled food-grade plastic, we have an endorsement from PETA and we purchase wind power electrical offsets from the desert," Orrell states. "We've worked really hard at being a true example of what a green brand should be today."
Been around too long to change, you say? Consider Mike's Barber Shop, tucked into the coastal town of Morro Bay, California. Founded in 1941, Mike's seems just like any other authentic barbershop, from its vintage chairs to its repertoire of fohawks, fl at tops and everything in between. However, since the shop was sold in 2012, it has undergone a green makeover, complete with solar power, low-fl ow faucets and recycling practices. Even the hair is composted instead of thrown away. 
Dieci Uomo Salon for Men in Livingston, New Jersey, has gone even further, constructing a facility that is LEED Certified, from the building's soy-based spray foam insulation to its countertops made of recycled glass and steel. Visitors to the salon's website are invited to download a PDF of its Environmental Commitment Brochure outlining the details.
If you're not ready to shop for solar panels, consider centering some of your charitable activities around environmental causes—and invite your clients to participate. "Companies are still relying on traditional forms of consumer engagement primarily tied to the product shelf, yet those consumers are looking for more diverse ways to get involved," says Cone EVP Alison DaSilva. "[Businesses] can serve as a catalyst for sparking donations, volunteerism and advocacy." Aveda is famous for organizing its brand salons around the company's clean water campaign via cut-a-thons and fashion events, but you can find a local or national organization with which to partner and do the same. Or simply choose a green organization you like, such as Sierra Club, The Nature Conservancy or National Wildlife Federation and host a fundraiser. Use the event to share information about the cause and encourage guests to learn more.
​[Image: Courtesy of Ross Helen]